The best friends-turned-brewing partners at Zuni Street Brewing Company in the Highlands want customers to buy a mug or put their name on a fermenting tank before they even down their first pint.
Now just months away from a tentative February opening of their brewery and taproom at 29th and Zuni, co-founders T.J. Slattery and Willy Truettner have launched a crowdfunding campaign on Kickstarter seeking $20,000.
"As a startup, there are always things that pop up cost-wise, so Kickstarter is a great way to help cash flow through opening," said Slattery.
The idea is to tap into enthusiasm from friends and family who don't have the money to buy into the business, he said, but can afford to pitch in as little as $5 on Kickstarter in exchange for access to early perks.
"(We're) able to reach out to that group and say, here's your opportunity to put your name on a tank, or table chair, or barstool," said Slattery.
The pair is also using Kickstarter to roll out its Zuni Street Mug Club, where members get a ceramic mug allowing them to buy 20-ounce pours for the price of a pint, plus a tee shirt, two pint glasses and a sticker to top off the deal.
As of Friday, the Kickstarter campaign was at $7,700. The project will only receive funding if it hits $20,000 or more by Jan. 7.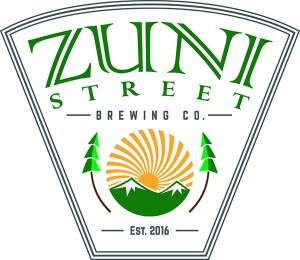 But before the brewers-in-waiting can start hanging mugs behind the bar and bussing in chairs and stools, Zuni Street is in the middle of turning its 3,500-square-foot garage next to Teatulia Tea Bar into a taproom with surrounding patio seating on two sides.

Since October the brewery has swapped out the floor, repainted the walls a shade of blue and even prepped a grain shed in the back parking lot. L&D Construction is the contractor on the job.

Zuni Street is now installing the centerpiece of the taproom: a bar top built from the cross-section of an oak tree by local furniture maker Steve Fast, which bends in a slight arc through the middle of the space.

The idea is to make the taproom feel cabin-like. The design, when complete, will take advantage of the garage's high ceilings to add silhouettes mimicking a canopy of trees. The pair also hopes to one day add a mural of mountain ranges in Colorado across one wall.

When everything is finished, the space will accommodate about 90 people inside and another 120 people on a pair of patios, the pair said. Slattery said startup costs for the brewery should total less than $1 million.

Zuni Street leased the space next to Teatulia in March, the same month it recorded a $400,000 capital raise in a filing with the SEC.

The soon-to-be brewery cycled through at least five potential names before seeking approval from the Zuni Pueblo, a Native American tribe in New Mexico, to use its current name.

And when the tribe gave the pair the go-ahead, it also supplied the answer to a question the brewers said Denverites have been asking: turns out the name is properly pronounced Zu-nee, not Zu-ni.

13141