Colorado is investigating a pair of golf tournament promoters it says drained more than $2 million from investors to fund a professional golf tour that never got off the tee box.
Colorado Securities commissioner Gerald Rome on Nov. 30 sued Colorado resident Brian Pebley and his business, C.H.A.M.P. Financial, as well as National Professional Golf Tour and its founder, Lawrence Lunsford, for fraud.
Romer claims that Pebley sold unregistered securities, often to elderly customers, on behalf of Lunsford's golf tour – even though neither Pebley nor C.H.A.M.P. had the qualifications to do so.
The state says the defendants failed to tell investors about Pebley's past bankruptcies, falsely claimed they were affiliated with legendary golfer Arnold Palmer and deceived investors into thinking they had lined up a financial gimmie with 10 to 15 percent returns and quarterly dividends and royalty payments.
Romer says the investment tanked: few investors received any dividends, and many lost "the majority or all" of their retirement savings.
"The investment was highly risky because it was dependent upon sponsorships in order to fund the professional golf tour," the lawsuit says.
Reached by phone, Lunsford said the National Professional Golf Tour went out of business in 2012 when sponsorship opportunities fell through.
"I feel terrible for what happened to the investors," he said, "and it haunts me every single day."
According to the complaint, Lunsford met and hired Pebley in 2009 to help raise $250,000 for the golf tour.
From 2010 to 2012, the state alleges, the defendants hawked promissory notes to fund Lunsford's tournament, telling investors that the venture was backed by golf great Arnold Palmer.
Around 43 investors chipped in $2.1 million, according to the complaint, many of them Colorado locals and some people Pebley knew personally: an elderly woman he met at church, a couple he crossed paths with at their children's school and even his next door neighbor.
But the defendants never had the proper registrations and licenses to sell promissory notes, the complaint says. And while the golf tour used some Arnold Palmer golf courses, Romer says Arnold Palmer was not a tournament sponsor and accuses the defendants of using Palmer's name to misrepresent the financial risk of buying his notes.
Around 2012, investors started to question why they hadn't received expected payments, the state says, and many investors are still waiting for their returns.
Pebley's former neighbor never saw principal nor dividends from his $150,000 investment, according to the complaint, and an 82-year-old woman who pitched in $25,000 "has lost her savings, and now lives solely on social security."
Colorado Attorney General Cynthia Coffman is representing the securities commissioner.
The state is seeking "restitution, disgorgement and other equitable relief" on behalf of people injured by the defendants.
The state of Illinois in 2014 opened an investigation into Pebley, saying he failed to disclose a conflict of interest while selling securities at a firm in Chicago. According to the Financial Industry Regulatory Authority, Pebley is no longer a registered securities broker or investment advisor.
Local media reports and court documents indicate that Pebley has held many other jobs: he has sold life insurance, operated a sports training facility in Windsor, Colorado and, in the months before he filed for personal bankruptcy in 2005, delivered Blackjack Pizzas.
Pebley, whose most recent address is in Johnston, did not return messages from BusinessDen seeking comment.
But Lunsford, in a phone call, said he only learned that Pebley wasn't qualified to sell securities when the Colorado Attorney General contacted him over a year ago.
In 2009, when Lunsford met Pebley, Lunsford had experience putting on amateur golf events and charity tournaments. The National Professional Golf Tour would be, instead, a feeder system for the PGA Tour.
"I don't know anything about investing. I run golf tournaments," said Lunsford. "I wasn't really aware of what could go wrong."
For two-and-a-half years, Lunsford said, the tournament was able to run on membership dues and investments. In 2011, it advertised a $1 million purse for the season.
Lunsford said he and his business never misrepresented the risks of the tournament to investors. He said it wasn't until the Colorado Attorney General contacted  him over a year ago that he realized Pebley was unqualified to sell securities.
"It was just naïve," he said.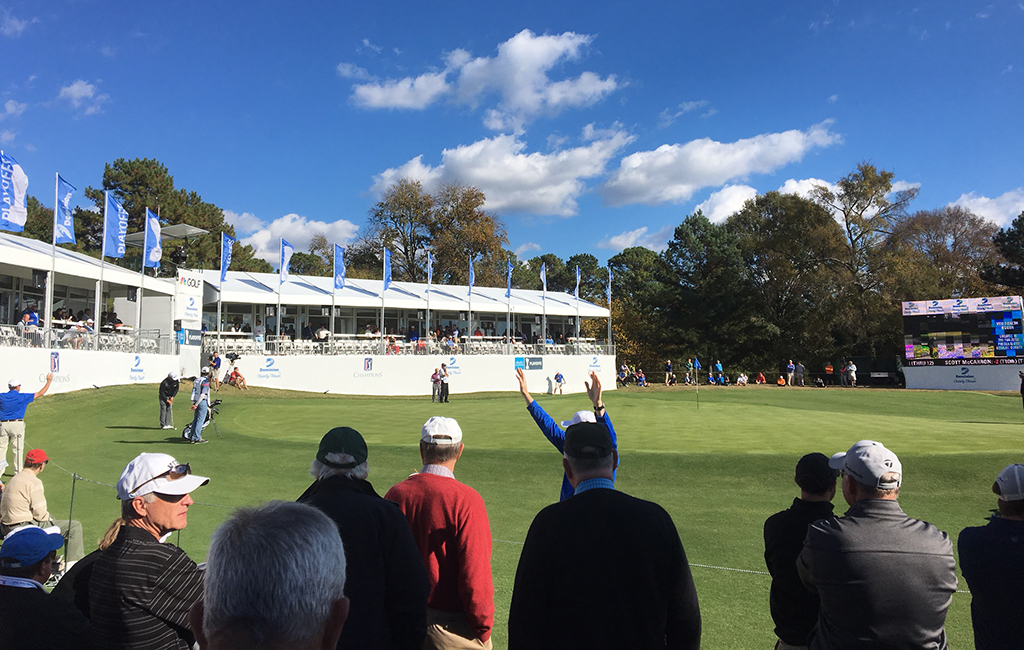 13010