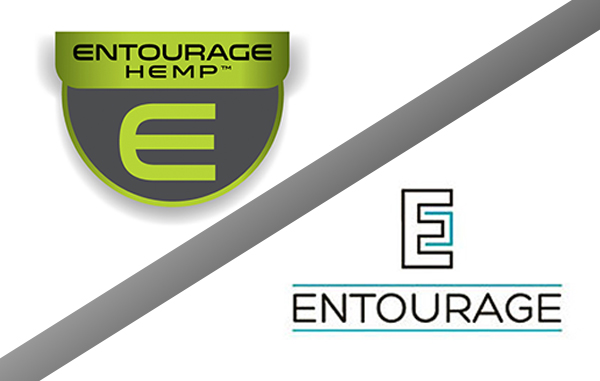 The maker of a local cannabis product called Entourage Hemp claims that a rival's name is "beyond confusingly similar" to its own. Even lawyers have contacted the wrong Entourage, the suit claims.
In a complaint filed Nov. 21, Aurora-based hemp oil and gel cap manufacturer Cannoid accuses a Colorado Springs-based competitor Entourage Nutritional Distributor of using an "almost identical" logo and name, amounting to a trademark infringement.
"Customers have contacted Cannoid seeking (Entourage Nutritional's) product, lawyers
seeking (Entourage Nutritional) have contacted Cannoid, manufacturers have questioned whether there is a connection and many other persons have been confused between Cannoid's Entourage marks and (Entourage Nutritional's) infringing marks," a complaint in U.S. District Court in Denver says.
The Aurora startup is asking the court to force Entourage Nutritional Distributor to drop the entourage and for damages for its troubles. Denver attorney Jeffrey H. Kass filed the case for Cannoid.
"Instead of ramping down use of 'Entourage,' they ramped it up," Kass said.
Cannoid alleges that it had been marketing products under the name Entourage for two years before its rival started using that name in May.
Bill Arnold founded Cannoid, the holding company for consumer cannabis and industrial hemp brands including Entourage, in 2013. Arnold did not return an email seeking comment.
Cannoid's CBD-based hemp oil gel capsules and liquid hemp oils went to market under the Entourage brand name in 2014, according to court documents.
In January 2016, Arnold filed a pair of trademark applications, one on the design for a logo, Entourage Hemp E, and a second on a phrase, Entourage Hemp.
Cannoid claims Entourage Nutritional began marketing industrial hemp to cannabis businesses this spring. The Entourage Nutritional website currently advertises wholesale hemp oils as well as pills and capsules.
In its complaint, Cannoid says Entourage Nutritional ignored a cease-and-desist letter six months ago, and has instead continued using the name Entourage and a logo with a prominent letter E.
Then, in October, days after Arnold's logo design for Entourage Hemp E became a registered trademark, a hemp company challenged Arnold's second trademark application on the phrase Entourage Hemp.
The opposer, Whole Hemp Company, shares an address with Entourage Nutritional and claims that Arnold cannot trademark the word entourage because it is a descriptor referring to "the entourage effect of the marijuana plant."
Pending the civil dispute in U.S. district court, Cannoid has asked the U.S. Patent and Trademark Office to suspend the trademark opposition by Whole Hemp, which does business under the name Folium Biosciences.
Sal Gioe, an Entourage Nutritional spokesperson listed on recent press releases, did not return messages seeking comment. Arnold declined comment for this story.