The biggest condo project underway in Denver now has nine figures worth of building permits in hand as it prepares to come out of the ground.
East West Partners pulled about $95 million worth of building permits last week for the Coloradan, a roughly 20-story condo tower the company is building behind Union Station. Plans call for 334 condos costing between just $300,000 and $1.3 million.
"There seems to be a severe lack of supply, and we think there's a tremendous demand for the condo lifestyle, especially in this location," said Jay Lambiotte, CFO at East West. "It's a very compelling market opportunity, and a chance to deliver homes that a pretty diverse group of Denver residents want to live in."
Lambiotte said the Coloradan will cost about $200 million to build (East West paid the city about $800,000 in permit fees for the $95 million worth of work approved last week). It's taking shape on a 1-acre plot north of the train tracks at Union Station.
The unit mix comes out to 49 studios, 113 one-bedrooms, 114 two-bedrooms, 18 three-bedrooms, seven penthouses and 33 price-controlled units, which will sell at a price below market rate to satisfy Denver's inclusionary housing ordinance.
Lambiotte said the least expensive studios will start in the high-$200,000s. The penthouse units will start at about $1.6 million, with the most expensive penthouses topping out above $3 million.
The tower will also include about 19,000 square feet of retail space, a rooftop pool deck and clubroom, a fitness room and 447 parking spots, according to a project summary on the East West Partners' website.
An in-house sales team will handle condominium sales. The developers estimate they can wrap up construction in less than two years.
"We're about three months into construction, and it's a huge milestone to get the permits," Lambiotte said. "We're well underway with foundation work onside and on schedule to complete the project in the fall of 2018, which has always been our schedule."
Portland-based GBD Architects is the architecture firm. GE Johnson Construction Co. is the general contractor, and Buildmark is the project's construction manager.
East West Partners co-master developed the entire Union Station complex alongside fellow Denver development firm Continuum Partners. East West is also developing 16 Chestnut, a planned 430,000-square-foot office building about three blocks from the Coloradan.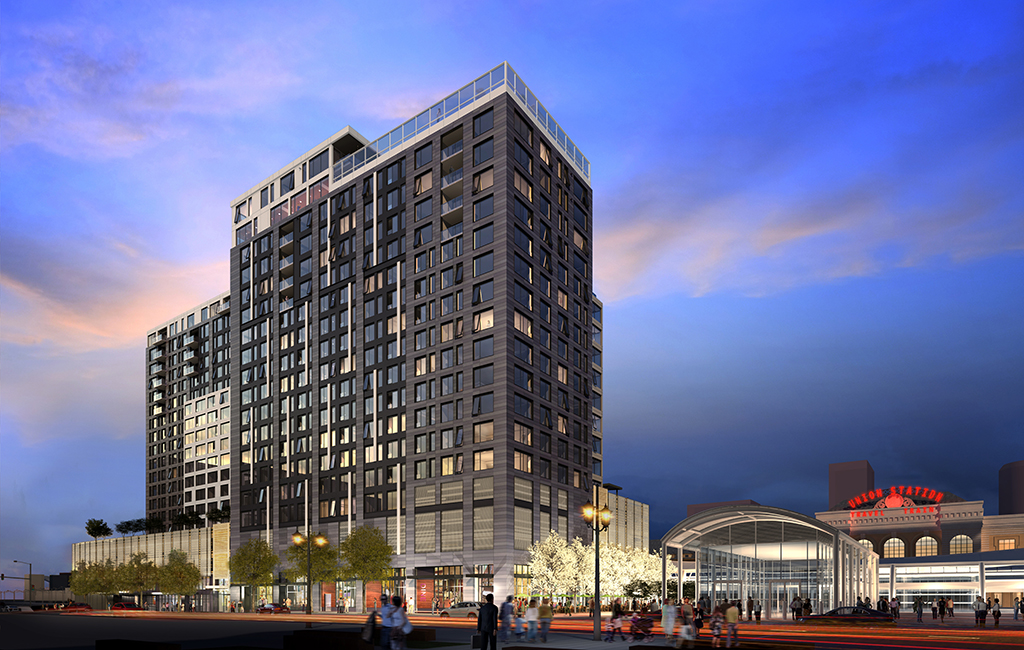 12796