One of the biggest donors to the University of Denver is again taking out the checkbook.
The University of Denver on Thursday announced that Laura Barton – widow of former Liberty Media CEO Peter Barton – committed $10 million to endow DU's new Barton Institute for Philanthropy and Social Enterprise in her late husband's honor.
Peter Barton, alongside John C. Malone, helped build one of the largest cable companies in the country, Liberty Media and became its president and CEO. He died in 2002 of stomach cancer, at age 51.
After retiring from Liberty, Barton became an adjunct professor in the University of Denver's business school.
And since his death, Barton's wealth has been used to fund another high-profile project at DU, the Peter Barton Lacrosse Stadium. The men's lacrosse team at DU made its first appearance in the NCAA tournament in 2006, soon after the stadium was completed.
DU started its Institute for Philanthropy and Social Enterprise last year under the leadership of executive director David Miller, previously of the Denver Foundation. Miller said the institute exists to help "the most vulnerable populations" in metro Denver and will use this initial donation to hire staff and fund its long term endowment.
"There are some wonderful think tanks around the country that are studying philanthropy as an academic discipline and, frankly, I don't think we need any more of those," Miller said "So what I hope to steer us to do is to develop programs and projects that help people rather than just thinking about it and studying it."
One possibility is that DU will support social impact bond programs, Miller said, a style of philanthropy in which private capital is used to fund public programs like early childhood education.
The next step is for DU representatives to start meeting and interviewing people they intend to help, so that the Institute can start specific programs under its broad mandate.
Miller also sees a role for DU students, who might be able to evaluate programs, provide legal services or make business models on behalf of the Institute and its projects.
Miller was president and CEO of the Denver Foundation for 20 years before joining DU at the end of 2015 to start the Institute.
When he was still new to his job at DU, Miller picked some sandwiches to share with his friend Laura Barton, since the two had worked together at Mayor Federico Peña's office and again at the Denver Foundation.
He was looking for advice. He never imagined she would give him much more than her two cents.
For her part, Barton said her donation is only the beginning.
"We really hope that this gift will inspire others to invest in this institute and its work going forward," she said.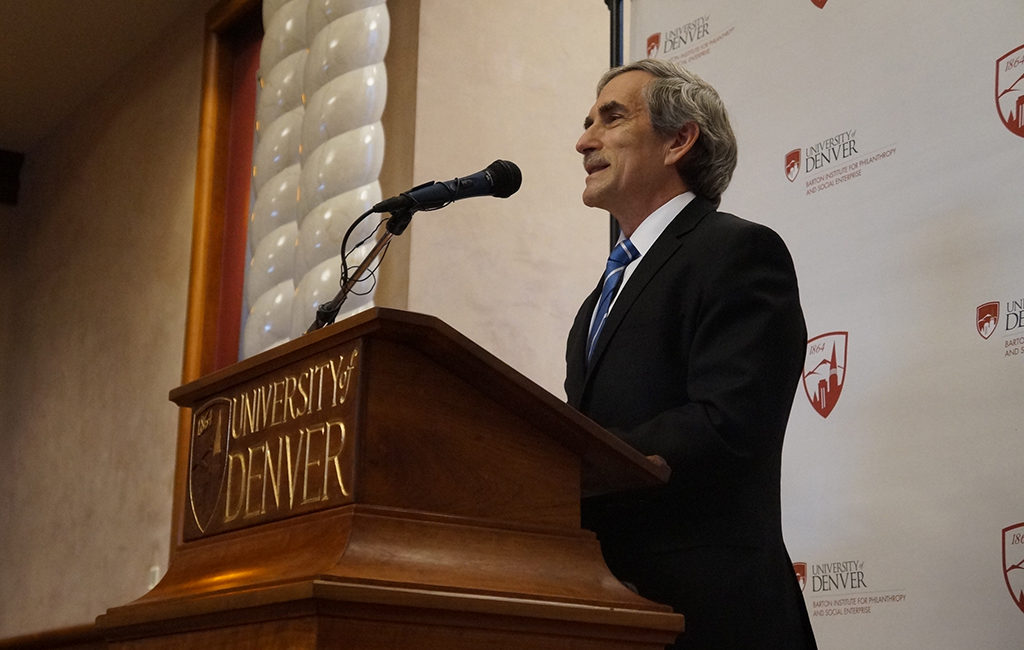 12754