It's been a banner year for Colorado sports, and a local artist hopes a winning 2016 will make for a profitable 2017.
Cartoonist Drew Litton is working on the fourth consecutive edition of his Colorado sports calendar, a 12-month day marker with satirical drawings of Broncos, Rockies, Buffs, Rams and other local sports teams.
It's an idea that first struck Litton nearly 20 years ago, after he spoke to a sales manager at a local book store while working on his own book of cartoons.
"He told me 'this display of Far Side calendars, it outsells everything in my store ten fold,'" Litton remembers. "That told me there's a market for cartoon calendars."
Litton has been a sports illustrator for more than 30 years. His work has appeared on ESPN.com, the Chicago Tribune and WGN, among other outlets. But he's perhaps best known for cartooning for the Rocky Mountain News from 1982 until the paper folded in 2009.
It was the Rocky's closure that got Litton really thinking about other ways to get his work out there.
"One of the things you have to do after newspapers close, and you enter the freelance world, is try to find new ways to reinvent yourself," he said. "And the calendar seemed like a perfect thing to do."
Litton said he did one or two calendars before about 2013, but this will be the fourth consecutive year he's put out a full year wall calendar. Last year's edition sold more than 7,000 copies, and he said he would like to push that number closer to 20,000 for 2017.
He's raising money for the calendar on Kickstarter, and plans to sell it for $15.99 online and possibly in a few retail stores. 
Drawings in this year's calendar include a sketch of Cam Newton sitting in a baby's crib as Von Miller lurks outside the window of his nursery, grinning and holding the Super Bowl trophy. The cover page features mascots for the Nuggets and Broncos driving a jeep with the Rockies mascot tied to the roof.
Each month features a main cartoon image above the fold, with tidbits and trivia sprinkled on the dates below. Litton said it can take just a couple of hours, or an entire workday to produce the cartoons that calendar buyers look at for a month at a time.
Getting the picture on paper is the easy part, Litton said, once it's clear in his own mind.
"It just depends on how long it takes to the idea," he said. "It can take anywhere from five minutes to five days to finally get the right concept."
Litton's latest push is a Chicago Cubs cartoon calendar, the first of which he'll roll out this year. He commemorated that team's World Series win with a drawing of famous former Cubs preparing to roast a billy goat, as Harry Caray raises a toast at the head of the table.
Litton first tossed around the idea of doing a full Chicago calendar, highlighting the Bears, Bulls and other Illinois teams like he does each year in his Colorado edition. But he decided to focus in on the Cubs as they put together a season to remember, making baseball the talk of the town well into an autumn that Chicago football fans would will be more than happy to forget.
And while Litton said it's easier to poke fun at bad teams, fans usually don't want to hear about how awful their team is.
"It's easier to draw cartoons when teams are losing, but people don't read them," he said. "So it's better when the team is winning, because everybody is energized."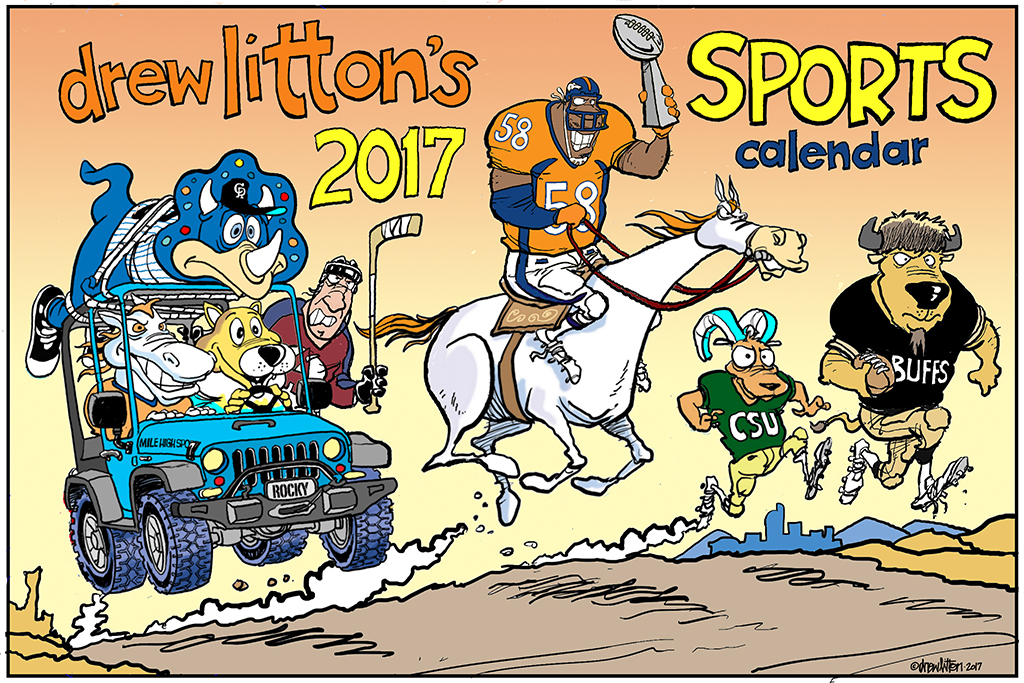 12719