Kirkland Museum rolled into Golden Triangle this weekend.
On Sunday the museum used six sets of wheels to transport all 300,000 pounds of its namesake century-old studio eight blocks down 13th Avenue to its new home – steps from the Denver Art Museum.
The move is part of a multimillion-dollar project announced in 2014, which will triple Kirkland's size to 38,000 square feet when the museum reopens next fall at 1201 Bannock St.
The museum's founding director and curator, Hugh Grant, said the museum wanted to be nearer to the Golden Triangle art scene and needed more space to display its collections. But it didn't want to leave behind Vance Kirkland's three-room studio, in part because the space is a major draw for art lovers.
"They end up in the studio and they're just mesmerized," he said. "The prestige that the artist Vance Kirkland brings to us, and to the reputation of Colorado art, is such that we thought it was essential to save his historic studio."
Painter Vance Kirkland founded the art program at the University of Denver in 1929, then left to start an art school of his own on Pearl Street. That building, now moved, would later become his personal studio.
Today Kirkland's work is displayed alongside international decorative art as well as Colorado and regional art, as one of three collections at the Kirkland Museum of Fine & Decorative Art.
The museum purchased the site for its future museum for $7.7 million. Seattle architecture firm Olson Kundig designed the new space, which broke ground in September 2015.
The existing museum at 13th and Pearl closed to the public in May. Grant, the museum's director, said museum has not yet decided what to do with its old site.
Mammoth Moving & Rigging and Shaw Construction did the heavy lifting this weekend, using eight sets of remote-controlled wheels to transport the studio, built in 1910, to 12th and Bannock.
Chambers Family Fund is funding construction of the new museum. The total cost of the project has not been made public.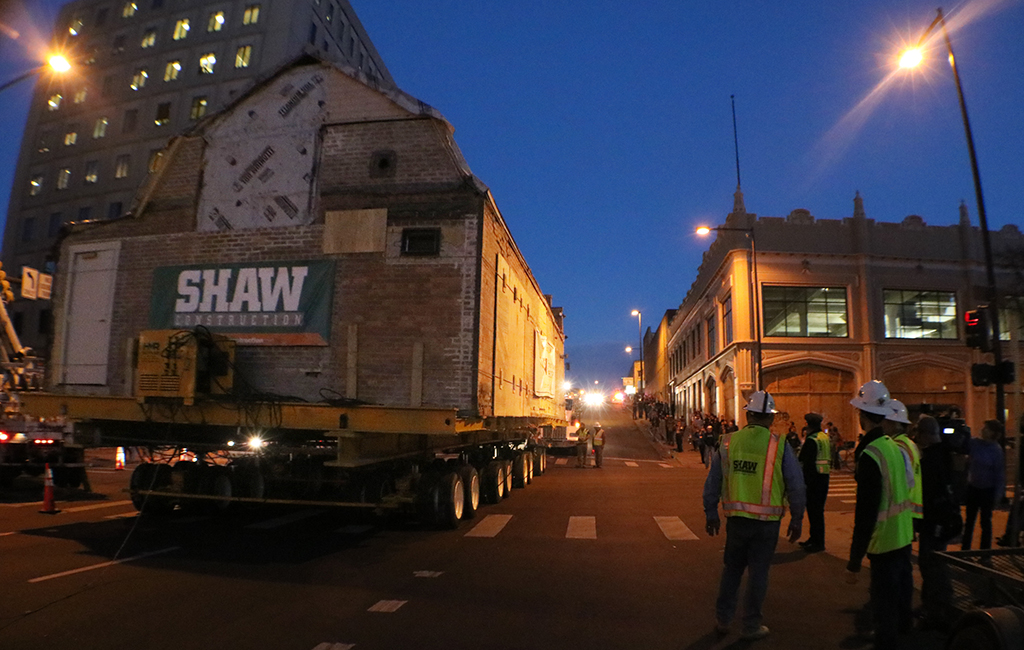 12465