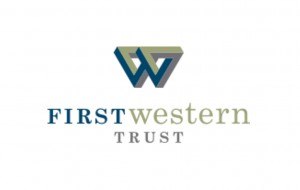 The parent company of Colorado's eleventh-largest bank is looking to raise $37 million.
Denver-based First Western Financial disclosed in an SEC filing Oct. 24 that it has raised $7 million since January in a private offering of debt and equity, to be capped at $37 million.
First Western Financial, the parent of First Western Trust Bank and First Western Capital Management, did not respond to messages seeking comment.
As of June 30, First Western Trust had $878 million in assets, making it the 11th–largest bank out of 51 financial institutions insured by the FDIC in Colorado.
According to the FDIC, First Western Trust reported net income of $2.3 million year-to-date on June 30, up 55.9 percent from the same period in 2015. It had $769 million in deposits on June 30.
First Western Capital Management is an investment advisor that works with foundations, endowments, and pension plans.
CEO Scott Wylie co-founded First Western in 2002 to cater to affluent customers. Today, its services include wealth management, private and mortgage banking and business services.
It established its first office downtown in 2004, expanding to Fort Collins and then Cherry Creek the following year. It added its first out-of-state office in Scottsdale, Arizona in 2008. More recently, in 2014, it pushed into Jackson, Wyoming and Los Angeles.
Also in 2014, First Western Financial inked an agreement to merge with Kansas-based bank holding company Sunflower Financial, but called off the deal in January 2015.
When First Western Financial announced it was moving to 1900 16th St. from the Tabor Center in 2012, the Denver Business Journal reported that First Western had signed a lease for 50,000 square feet split across two floors.
First Western had 218 full-time equivalent employees in June, according to the FDIC, up from 162 a year prior.