Denver will be the first retail stop for a Wyoming-based mountain clothing brand.
Jackson Hole's Mountain Khakis is moving into Larimer Square for its first full-time brick-and-mortar store. Co-founder Ross Saldarini said they targeted Denver because of its reputation as a gateway to the Rocky Mountains.
"Denver is the largest mountain town in America, and it's obviously a town that is having tremendous success," he said. "We have limited distribution in Denver, so it's a chance for us to expose our brand to our kind of customers in a 3-dimensional, retail way we haven't been able to."
Mountain Khakis has a five-year lease for a 1,800-square-foot storefront at 1412 Larimer St. The plan is to open up a smaller, 600-square-foot preview store for the holiday season, then close the shop to build out the full store for a February reopening.
Saldarini said they'll invest just under $250,000 to get the store open. He liked Larimer Square for the high volume of foot traffic on the downtown retail strip.
"It's not just a street, it's an events zone for downtown Denver," he said. "We built this brand on hand-to-hand combat and guerilla marketing, so it's our kind of place."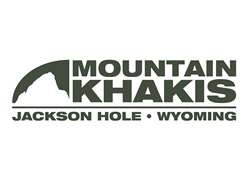 Mountain Khakis sells a brand of mountain inspired, everyday casual wear including khakis, sweaters, hats and other apparel. Saldarini described his brand as the clothes you change into after a day skiing or hiking.

The company launched in 2003. It has a design and product development office in Jackson Hole and handles distribution, customer service, marketing and other backroom functions out of Charlotte, North Carolina.

Saldarini and his partner Noah Robertson said they saw a gap in the market watching wealthy Jackson Hole visitors walking around the vacation town in lower-quality khaki pants made for mountain towns.

"We saw millionaires and billionaires walking around in $30 work pants and $500 sweaters," he said.

Some of the company's top sellers include its original mountain pant, which Saldarini said has been a top seller since the founding days of Mountain Khakis. A stretch canvas pant called the Camber 107 and a fleece sweater are a couple other customer favorites.

Mountain Khakis sells clothes online and through wholesale to other vendors. Confluence Kayaks on Platte Street is the only place to get their products in Denver right now, Saldarini said.

"Those guys have been supporters of Mountain Khakis from the earliest of days, and we look forward to supporting them by helping support trips that they do," he said. "We don't sell kayaks, so we'll push people their way for the big, hard goods purchases."

Looking forward, Saldarini said his company will look to continue to push its wholesale business while keeping an eye out for other retail locations around the country. He said Denver could be in line for another store sometime, but he's not in a hurry to find another spot yet.

"Denver could absolutely support more than one store, but I think that for the moment we're going to have to learn how Denver works for Mountain Khakis," he said. "We'll be really patient about thinking about a second store in Denver."

12162