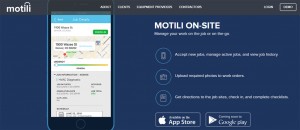 A downtown software startup that caters to large property owners has landed $880,000 in funding.
Motili makes a mobile and web application that property owners can use to organize renovation and repair projects.
According to paperwork filed with the SEC on Sept. 30, Motili has raised $879,000 from four investors since the offering opened in Dec. 2015. Motili declined to comment for this story, saying funding was not yet finalized.
A description on the startup's website says customers like multi-tenant and commercial property owners, restaurants and hotels can use the app to submit a job request. They are matched to a contractor and pay for the job through Motili.
Contractors, meanwhile, can accept jobs posted on the Motili app or sent via text and email. Motili software allows them to check off tasks for each work order they are assigned and to order equipment using vendors available via Motili.
On its website, Motili counts 1,800 contractors on its network and says that contractors earn on average $1,400 per job.
Motili CEO Jeff Wilkins previously co-founded the technology companies Entiera and Interaxis Marketing, according to his LinkedIn profile. Both companies have since been acquired and were based in the Denver area.
Motili, founded last year, is headquartered in Denver at 1900 Wazee St. and has a second office in Binghamton, New York.
This is the first offering the company has disclosed to the SEC.