After keeping the company books for four years, an accountant is hopping behind the counter to bring back a Denver sandwich chain that shut down five years ago.
John Ward plans to open a Spicy Pickle restaurant at the corner of Lawrence and 19th streets downtown next year. It's a reboot of a chain that went bust in Denver in 2012.
Ward worked for the group that bought the chain about four years ago. He cooked up the idea for his own restaurant while watching Spicy Pickle's books.
"I could see what was happening on the financial side, and on the operations side, and was excited about the potential and what this company could be."
Ward's new restaurant will be the second Spicy Pickle in America, and the first in Colorado, when it opens early next year. He leased the 2,000-square-foot space at 1875 Lawrence St. this month and plans to spend about $200,000 to turn it into a sandwich shop.
The Spicy Pickle was a lunch spot that founders Kevin Morrison and Tony Walker started with one location at 10th and Lincoln streets in 1999. The company expanded into nine states and went public in 2007, according to a Westword story from 2012.
Morrison left the company in 2009, and the brand declined before eventually selling off its assets four years ago to a group that continued to operate the company as a private entity. Today there is one Spicy Pickle open in Reno, another in Doha, Qatar and a third in Kuwait City.
Ward hopped on board as an accountant around the time the company went private in 2012. Then last year, new owner Garth Moore came to the table and bought into the Spicy Pickle.
To hear Moore tell it, the Spicy Pickle lost its way the first time around as it tried to expand too quickly. He said the Spicy Pickle used more expensive ingredients and made a great sandwich in its first few years.
But then, Moore said, the company started putting less money into meats, cheeses and bread to compete with the Subways of the world.
Moore's Spicy Pickle shops will get all of its meat and cheese from Boar's Head, and they'll make their own bread in house. For example, one of the store's most popular subs is the Bandido, a Panini made with a spicy Boar's Head turkey product called Salsalito.
"We're going to be an $11 sandwich," he said. "When you're in the mood to have a $5 sandwich delivered, that's fine. But that's not us."
Ward will operate his sandwich shop under a franchise agreement with Moore. He thinks he's found a corner of downtown that doesn't have a good, upscale breakfast and lunch spot.
He rattled off a few places where you could get a cup of coffee; mentioned quick sandwich spots Heidi's Deli and Quiznos a couple of blocks over; and pointed out a couple more upscale options that don't open later in the afternoon and evening.
But he's aiming for the office tower lunch crowd that doesn't mind spending a little extra money for a pricier sandwich.
"This is what our customer base should have always been," Ward said, pointing at the high-rises near his to-be restaurant. "We service the working people and this satisfies all of our delivery and catering areas as well."
Fairbairn Commercial handled the site search on the Spicy Pickle's behalf. Tony Pierangeli, Molly Bayer and Tami Lord with SRS Real Estate Partners represented the landlord. Scottsdale-based FM Group designed the restaurant space and Highland Design Build will head up the renovations.
Ward is financing the project with a loan from Adams Bank & Trust.
Both Moore and Ward have bigger plans for the Spicy Pickle than one outpost in downtown Denver. Moore wants to grow the brand, but isn't looking for the kind of quick growth he thinks sunk the Pickle years ago.
His goal is to have 10 profitable locations running in five years, with a focus on Colorado, Arizona and Texas. Moore estimated Denver could support four or five Spicy Pickles.
Ward sees himself franchising at least of couple more, but said he'll want to get the first shops up and running and find someone he trusts to keep it going before branching out to a second store.
"I'll be here shaking hands, and taking care of anything that needs to be done in the store," he said. "I want to eventually do several, but I don't want to lose that touch."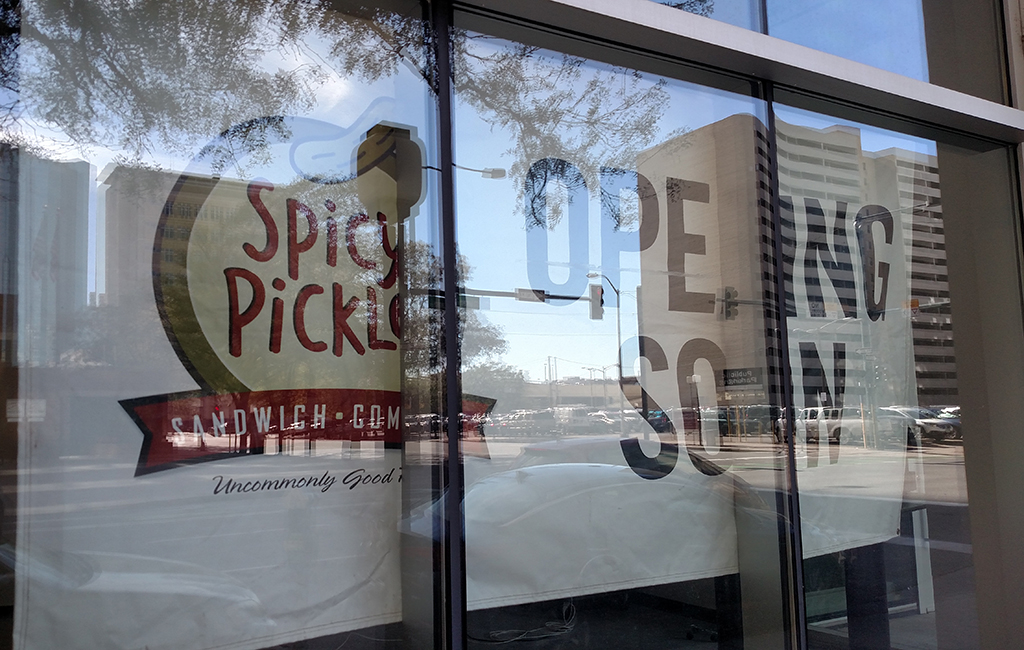 11647