When David Estrada was an architecture student, he was inspired by the low, sleek chairs and other furniture a generation of designers fashioned in the late 1950s through early 1970s.
Now, Estrada is coming to the table with his own designs for vintage-styled aluminum furniture. He's hoping to sell a table with a mid-century modern design that won't fall apart outdoors like a typical walnut wood piece from the 1950s.
"When I look at the need out there, I don't see any availability," he said. "You can't put original mid-century furniture outside, because it will get ruined."
Estrada, who opened mid-century modern furniture showroom Mid-Mod Mall in 2010, is calling his furniture startup Colorado Commercial Surfaces. He has worked with a manufacturer to produce prototypes, but hasn't yet signed on a manufacturer for large-scale production.
Estrada hopes to have prototypes at the Mid-Mod gallery and begin selling aluminum tables by early 2017. He's hoping to sell his tables to restaurants by marketing to the architects who design them, and also sees a market for his product in outdoor public parks.
Mid-century modern furniture has gone from Estrada's décor of choice to a career.
Estrada started collecting and displaying the furniture in the mid-1990s, when he owned an art gallery at 1644 Market St. Gallery-goers needed a place to sit, so mid-century chairs became a staple of his shop as well as the rental properties he owned in metro Denver.
But it wasn't until about eight years ago, when art gallery visitors offered to buy his chairs and tables off the shop floor, that Estrada considered turning his collection into a business.
"People started asking about the furniture, and one thing led to another, and here we are," he said.
In 2010, Estrada and his wife Jimi opened Mid-Mod Mall at 3434 Brighton Blvd. in RiNo. To keep the store stocked, Estrada began fielding calls from young families selling their parents' furniture. Often, he said, the same age group turns around to buy furniture in the showroom.
Today, home furnishings have outpaced artwork to account for 70 percent of sales at Mid-Mod. The company also stages homes and commercial properties, Estrada said, as well as TV advertisements for companies like Dell and Chase Bank.
"What used to be truly a niche of furniture has now evolved into a mainstream decor style," he said.
And Estrada isn't the only local retailer reaping the benefits of the trend: Mod Livin' Modern Furniture on East Colfax and Modmood/RETRO Consignment in Wheat Ridge also specialize in mid-century style.
Meanwhile, Estrada has watched as the cost of buying mid-century pieces, the volume of sales and the price he can charge on the showroom floor all continue to increase. Unwilling to rest on his Eames lounger, Estrada opened his second Mid-Mod showroom in May at 1351 W. 38th Ave.
"I wanted to be conveniently located for markets that include LoDo, LoHi, Sunnyside, Wash Park, City Park, Berkeley and Stapleton," he said.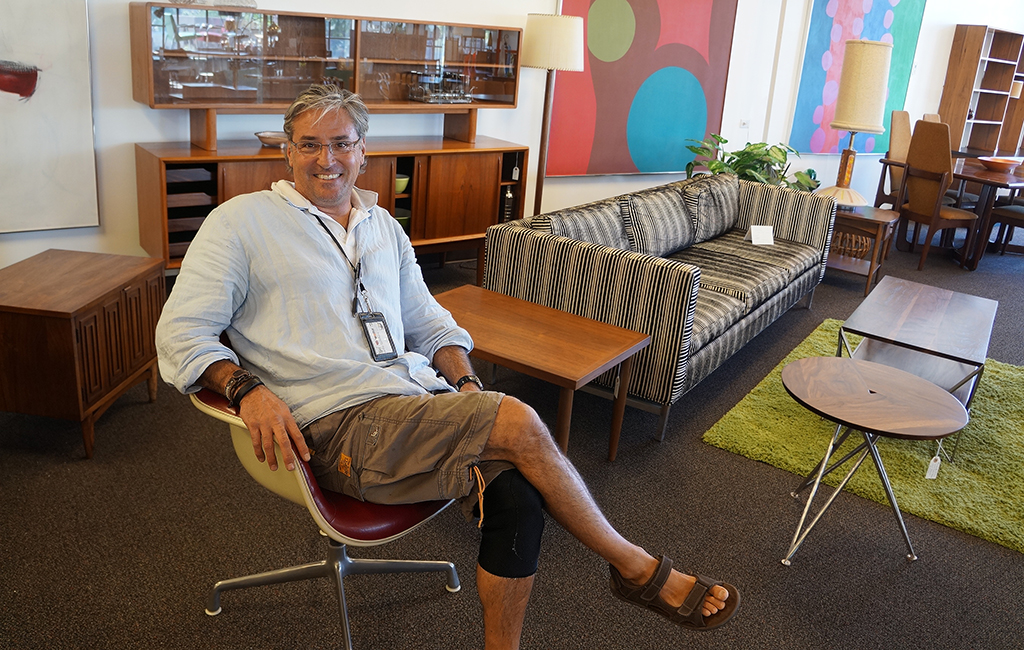 11564