The Denver Housing Authority is planning a 176-unit apartment building catering to disabled seniors at the corner of Colfax Avenue and Perry Street near Sloan's Lake.
The plan is to build a new subsidized apartment building atop a 30,000-square-foot ground floor medical services center that DHA's real estate director Ryan Tobin said could include outlets for primary patient care, urgent care, geriatric care and dialysis.
"We think the partnerships we are currently solidifying will let people age in place with a full suite of healthcare services available," he said.
Vida, as the building will be called, will replace a used car lot, a small retail building and a former dormitory building along Colfax Avenue between Perry and Quitman streets.
Plans call for a split-level, seven- and five-story building with 175 one-bedroom apartments and a single two-bedroom unit for a live-in caretaker. DHA will also build a 46,000-square-foot underground parking deck for residents and customers visiting the ground-floor retail stalls.
In order to qualify for an apartment at Vida, potential renters will need to make no more than 60 percent of the Denver's median income. Several units are also reserved for renters making no more than 50 percent, 40 percent and 30 percent of that number, Tobin said.
According to numbers provided by the Colorado Housing and Finance Authority, Denver's median income this year was slightly more than $56,000 for a one-person household. That puts 60 percent of the area median income at $33,600 and 30 percent near $16,800.
Tobin said all residents will pay 30 percent of their income in rent, regardless of how much each tenant makes.
"The reality is that in some cases we will be servicing people at below 30 percent AMI," Tobin said.
To get the project off the ground, DHA has patched together a financing plan with both 4 percent and 9 percent federal tax credits. DHA is also seeking New Markets Tax Credits, and will fund public improvements with TIF money provided by the Denver Urban Renewal Authority.
"We've kind of layered every type of federal and local source of financing to make this project a reality," he said.
EnviroFinance Group, the master developer behind the nearby St. Anthony's redevelopment, currently owns the site. Tobin said EFG is cleaning the site to prepare it for development. DHA has a contract to buy the property from EnviroFinance Group and Tobin expects that deal will close in February.
Tobin hopes to break ground next summer and expects the project will take about 18 months to build. Parikh Stevens is the architect and Pinkard Construction will be the general contractor.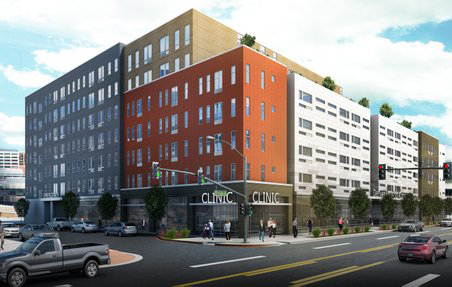 11573