Bo Pitto is using Kickstarter for a little fishing expedition – trying to gauge market interest for a twist on his main product, a handy device that keeps skis and other sporting gear upright against a car.
"Kickstarter is an amazing platform to test the viability of a new product," said Pitto, who founded Sport Bumper in 2012. He said he wants to create some buzz for a miniature version of his product.
Pitto initially introduced the mini as a promotional tchotchke, or give-away for vendors. It holds two fishing rods versus four in the original. The product was a hit with vendors, who requested Pitto start manufacturing them. So he went to Kickstarter to determine if individual consumers bite.
The bumper mini will sell for $10.99.
The Kickstarter campaign will also support the launch of a new ski bumper, the company's signature product. That item has additional magnets to increase grip strength.
Pitto, 30, launched Sport Bumper with a ski bumper, a magnetic device that temporarily attaches to the side of a car creating a holder that keeps skis and snowboards upright.
The idea struck Pitto during his ski bumming days in Vail. When his buddies from Denver came to visit for a day on the slopes, they would lean their skis against the car. The skis eventually toppled, naturally, and scratched the paint job.
That night, Pitto looked online for a product that would solve his problem. Finding nothing, he set off for the local hardware store to create his own. The first ski bumper was made from a bungee cord and magnetic tape. He brought his prototype to Christy's Sports in Avon, and while the buyer was impressed with the concept, Pitto was told to return when he had a "non-homemade device."
Pitto worked with a product designer in Denver to create the ski bumper. Then he assembled 1,000 in his garage in Denver.
"After 1,000, I realized I'd never do that again," Pitto said. He's since outsourced production overseas.
In 2013, a broken fishing rod inspired Pitto to expand his product line. The sportsman bumper was created to hold fishing rods and guns.
Selling for $19.99, the sport bumper has sold nearly 12,000 units, outselling the ski bumper nearly four-to-one. Pitto sells his product from his company's website and at over 300 outdoor retailers across the west.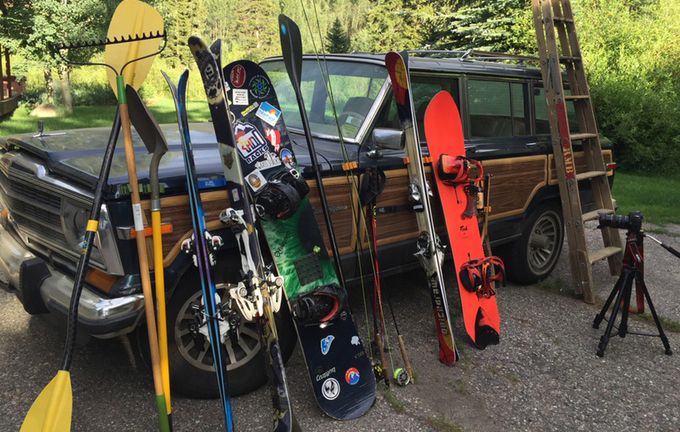 11425