A Colorado castle that has hosted a coal baron and a crook, a Rockefeller and a Roosevelt will hit the auction block in October.
Mining magnate John C. Osgood opened the 42-room Cleveholm Manor as a private estate in Redstone in 1902. It was intended to be the opulent centerpiece of a town he established for the workers at his Colorado Fuel & Iron Company. Today, the spot is an hour's drive west of Aspen.
Known as Redstone Castle, the property includes a 23,000-square-foot main residence appointed with silk-upholstered walls, gold leaf ceilings, Tiffany lamps, a 12-stall carriage house and grounds totaling 150 acres.
Florida-based Platinum Luxury Auctions will auction the property Oct. 7 with a reserve of $2 million, meaning the seller will accept the highest bid if it is at or above $2 million.
That reserve price is half what Redstone Castle's current owner paid in 2005 and a third of the $7.5 million listing from last summer.
Trayor Lesnock, the president and founder of Platinum Luxury Auctions, said the $2 million reserve is meant to bring potential buyers to tour the house and take up a paddle at auction without worrying about cost, since historic properties sometimes struggle to find a buyer.
"When you have a castle built in 1902, that's going to be pretty unique as opposed to anything else that's in the area. The pool of buyers is very small, but in that small pool there can be a high degree of passion."
And for every passion, a price. One buyer might want to invest in restoring historic features to the property, Lesnock said, while another might convert it into a bed and breakfast.
Since Osgood's time, the estate at 58 Redstone Blvd. has hosted Theodore Roosevelt and John D. Rockefeller, the Associated Press once reported.
In 1971, the property made the National Register of Historic Places, a distinction that requires its owner to preserve many of its features.
In 2000, the castle was purchased as part of an international Ponzi scheme. In March 2003, the IRS seized the castle in an effort to reimburse victims of a $56 million fraud.
Two years later, the IRS sold the property at auction for $4 million to Ralli Dimitrius, a California businessman and part-time Aspen resident who reopened the castle to public tours.
Dimitrius' representatives told The Aspen Times he hoped to turn the property into a resort and restaurant, but the owner instead listed the castle in June 2015 for $7.5 million.
Now the site is up for auction, with many of its historic furnishings still intact: European furniture and artwork collected by the Osgoods, Persian carpets, and claw-foot bathtubs. Outbuildings include a gatehouse, carriage house and gazebo overlooking the White River National Forest and Snowmass.
Beginning Sep. 19, prospective buyers can tour the property with Ted Borchelt and Jana Dillard of Aspen Snowmass Sotheby's International Realty, the property's listing agents.
Lesnock said registered bidders must wire $250,000 into a trust account or carry a certified check for that amount to participate in the in-person auction on Oct. 7 at 11 a.m. The seller may accept, counter or reject the highest bid if it is under $2 million.
If the highest bidder's offer is accepted, the bidder makes a 10 percent deposit of the purchase price and the sale must close within 30 days, Lesnock said.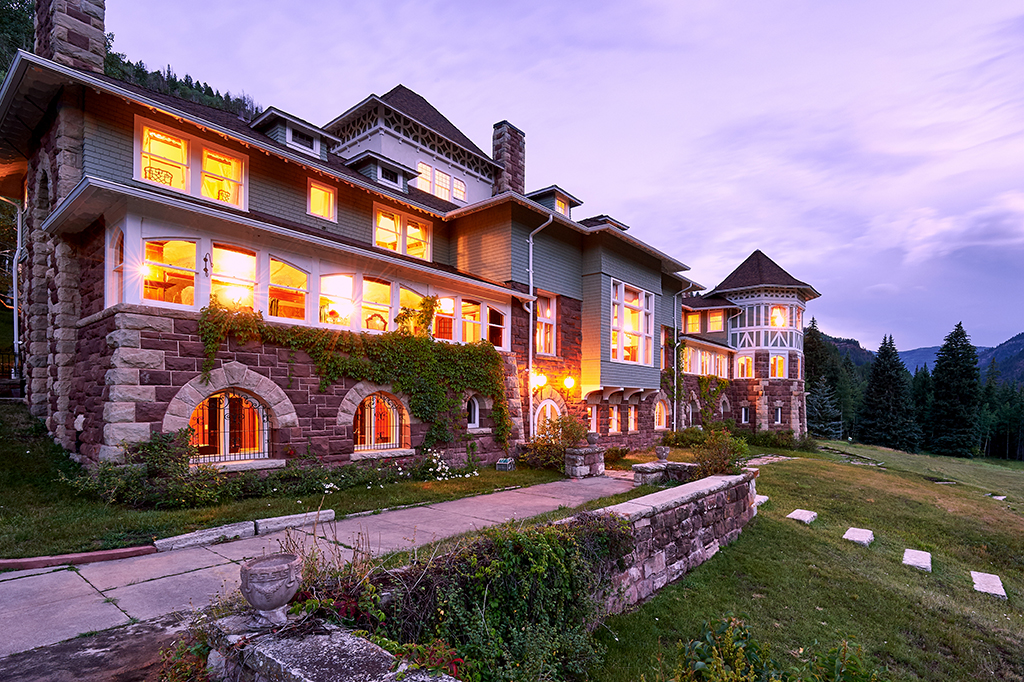 11284