A Denver mansion nabbed honors as the highest-priced home sale in the metro area in August, with more fireplaces than bathrooms.
Built in 1969, a two-story home at 32 Polo Club Circle sold for $5.3 million.
The listing agents for the property were Josh and Linda Behr of LIV Sotheby's International Realty.
"It was extraordinary because of the setting and because of the effort and time and money and energy that the sellers put in," said Linda. "They completely gutted it from stem to stern and redid everything."
With four bedrooms and six bathrooms, the house sold for $570 and change for each of its 9,300 square feet, a tick below its $5.9 million listing price, according to MLS data.
Downstairs, the house includes a breakfast nook enclosed on three sides with windows as well as tall ceilings crossed by beams and mid-century light fixtures.
Half a dozen fireplaces are scattered about the house: one in the den surrounded by dark wood panels, one in the great room beneath a white marble mantelpiece, a third in a corner of the kitchen flanked by built-in benches and, moving upstairs two more in each master suite.
Outside, the one-acre property has a three-tiered lawn in the side yard and a patio overlooking the tree-filled backyard.
The listing agents on the property were Josh and Linda Behr of LIV Sotheby's International Realty.
As a member of the Polo Club Place Homeowners Association, the property owner of 32 Polo Club pays monthly dues. Fees vary, according to the MLS filing, but are listed at $750 a month.
The seller was Kent C. Veio, an attorney with the Denver business law firm Kline Alvarado Veio. He purchased the property in 2013 for $2.5 million, according to Denver property records.
Residential properties in Cherry Hills Village have topped area home sales in eight of the past twelve months. August marks the second month in a row that the top slot has been occupied by houses in Denver neighborhoods instead.
In July, the sale price on the most expensive real estate dipped below $3 million for the first time in 2016.
The most expensive home to sell this year was a new build in Highlands Ranch, which went for $6.7 million in May.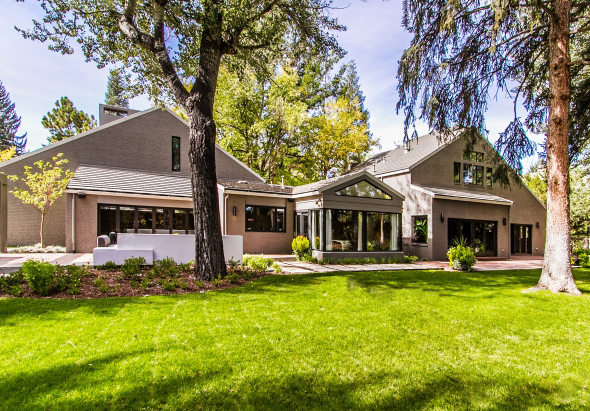 11179