After five years circling the block, a bar-on-wheels can park its carts in the same neighborhood where it makes the rounds.
Pedal Hopper, which has a fleet of 16-person party bikes that revelers pedal between Denver watering holes, is moving into a 1,800-square-foot building garage a block away from one of its stops, Mile High Spirits.
"We wanted a hub on our route," said co-founder Luke Stone, with easy access to bars in LoDo like the ViewHouse and Great Divide Brewing.
Previously, Pedal Hopper stored most of its bikes in a garage behind Ratio Brewing.
Pedal Hopper does not sell alcohol, nor can riders bring alcoholic drinks back to the bike. Instead, bars on the route often give Pedal Hoppers a discount on drinks.
Stone, Pedal Hopper co-founder Grant Barnes and the two principals at Track Architecture purchased the 6,300-square-foot parcel at Lawrence Street and Park Avenue in March for $700,000 under the business name Stack Development.
Together, the four plan to turn the 125 x 50-foot lot behind 2265 Lawrence St., previously home to Ireland's Finest Painting, into a coworking space built from adjoining shipping containers.
Mike Nulty of Track Architecture said the idea is to build a shared courtyard and to have amenities like WiFi, but to rent private offices.
Stone and Barnes grew up together in Kansas City, playing little league and riding their bikes. Barnes moved to Denver 17 years ago. After Stone started his first Pedal Hopper in Kansas City in 2010, he came to Denver and made his childhood friend his business partner in 2011.
Pedal Hopper is a licensee of PedalPub, the stateside dealer of a Dutch-made party bicycle. Pedal Pub says licensees typically pay $50,000 to get started their first year.
Pedal Hopper has a fleet of seven bikes, which travel three routes in LoDo, South Broadway and Uptown year round. In the busiest months from March to October, as many as 18 people are on its payroll.
"We think it's a big deal to go from one bike to seven in five years," said Barnes.
Barnes estimated Pedal Hopper books between 40 and 60 two-hour tours Friday through Sunday and another 10 to 20 during the week.
Tours cost $320 on a weeknight or $360 on a weekend. Local competitors Bike Bar Denver and Denver Patio Ride, which also seat up to 16 people, each charge $250 most weeknights. (Bike Bar slashes its price tag to $150 on Sundays, while Patio Ride raises its rate to $340 on the weekend.)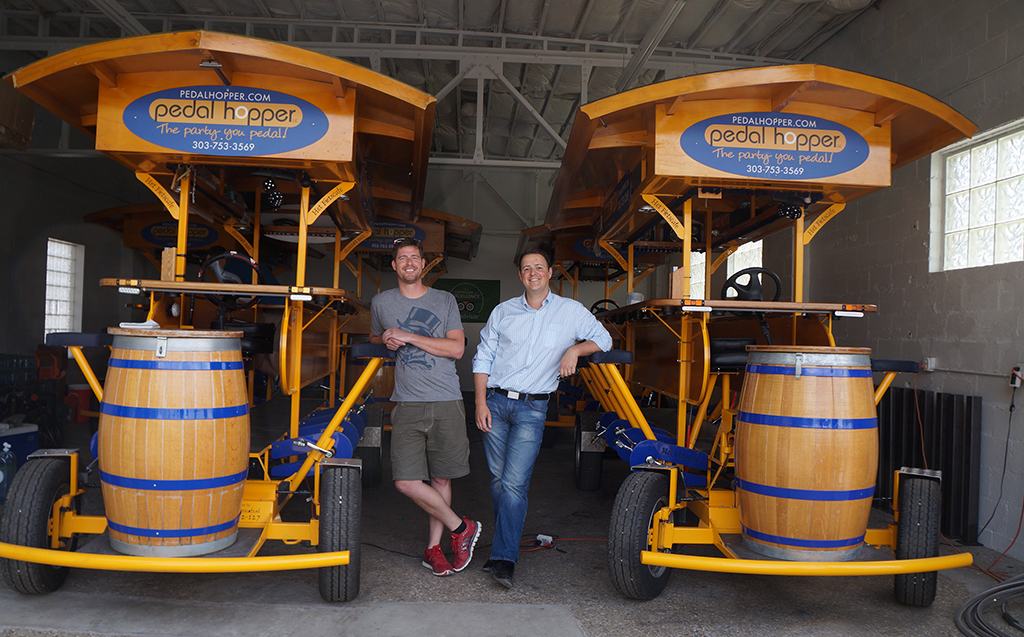 10685