Joel Milton and his startup Baker just pocketed $1.6 million from investors and is hustling to sell its software to new dispensaries in California, Arizona, Massachusetts and Nevada.
"This industry changes so quickly. And we believe that if we don't reach (those markets) soon, someone else will," Milton said. "They'll set up inferior software and it'll make it harder to set up with us later."
Baker, which makes software for dispensaries to manage customer loyalty programs and inventory, just added its first customer in southern California. And it's not satiated.
"Within the next month or two, we aim to be in at least two, if not three, new states," Milton added.
Baker announced its raise in a press release Friday. The company also disclosed that it had raised $1.5 million in a March filing with the SEC. (For a list of investors, see the break out box.)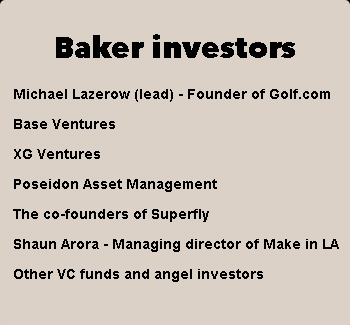 Milton started working on Baker in September 2014 and launched the following June. At the time, it was designed to help regular cannabis buyers to cut the line at local dispensaries crowded with inquisitive marijuana tourists. Users could peruse inventory at nearby stores on the app, place an order and get a text when, say, their were ready for pickup.

But Milton still saw dispensaries struggling to get repeat business. The cash-only industry can't track credit cards, making it harder to target promotions to specific customers. Dispensaries spend heavily on general advertisements instead, Milton said, but seasoned consumers tend to shop by price over brand.

So Baker added tools to manage a loyalty program, too. In addition to tracking customers that order ahead from the Baker widget on dispensary websites, the startup sends dispensaries an iPad display for customers to sign up for a rewards program when they enter a store. Then the dispensary can use the data to send customers product promotions and other perks.

"All of a sudden, you get that warm and fuzzy feeling like, 'Hey, these guys know me,'" Milton said.

Baker charges dispensaries a fee that averages between $450 and $600 a month per store, Milton said. So far, it has 100 dispensaries using its software in Colorado, Washington, Oregon, California and Ontario.

It is not yet in the black.

The 13-person company has an office in Galvanize on Platte Street.

Milton said competitors include companies that sell similar services to sign up customers for a loyalty program or to track inventory on an a la carte basis. But he thinks Baker is better because it rolls up several features into one package.

"Many of these dispensaries have put together this hodgepodge, Frankenstein solution, but (the pieces) don't really talk to one another," he said, like a messaging service that sends customers a promo alert, but doesn't include a link to buy the product.

10459