An Oklahoma-based aviation education company is taking a Colorado school under its wing and moving one campus from Denver to Westminster.
An affiliate of Spartan Education Group, which teaches students to fly, repair and build aircraft, purchased Broomfield's Redstone College in April. Redstone was previously owned by Westwood College, which shut down earlier this year.
Spartan CEO Peter Harris said Redstone was attractive because it has a wind energy program in addition to aviation tech courses, and already recruits half its students from out of state.
"We believe there is even more of an opportunity to attract even more people from across the country," he said, especially students interested in building and maintaining wind energy infrastructure.
Spartan is remodeling a 21,000-square-foot classroom and administrative office space north of West 120th Avenue and west of I-25 in Westminster to house Redstone's wind energy technology and avionics programs.
"We needed some significant lab space for the electronics, and we have a propeller for a wind turbine," said Harris. "Both programs deal with significant energy and electricity, so we had to make some additions to the (office building's) electrical system."
The property's landlord, Felton Properties, is managing construction, Harris said. The new location will replace the smaller of Redstone's two campuses, which is northwest of the I-25 to I-270 interchange in Denver. Redstone will continue operating a larger campus with about 200 students in Broomfield.
Harris estimates 100 students will attend classes there after construction finishes in August, but that the space could accommodate several times that figure with students taking classes at different times.
Spartan Education Group owns colleges that prepares students for aviation and energy careers.
Harris said Spartan has not decided whether it will rebrand Redstone under its new parent company's name. Redstone campus President Glenn Wilson and other local staff will continue their roles.
Redstone has five technical training programs. The least expensive is a 10-month HVAC diploma program that costs $18,000; the most expensive is an 18-month airframe and power plant associate's degree that costs nearly $37,000.
Wilson said Redstone is the only school in Colorado teaching both avionics and airframe and power plant programs.
In January, Redstone parent company Westwood College announced it would close its schools by the end of March. Previously it paid a $4.5 million settlement after the state attorney general investigated complaints about misleading recruiting tactics.
Both Harris and Wilson said Redstone has a good reputation in the aviation field, which attracted five serious bids for its assets after Westwood announced its shutdown.
Wilson said Spartan's acquisition will help Redstone to continue recruiting students nationally using Spartan's admissions reps, since half its students already come from out of state.
"There's also nice economies of scale," he said. "It gives us a chance to combine our marketing resources."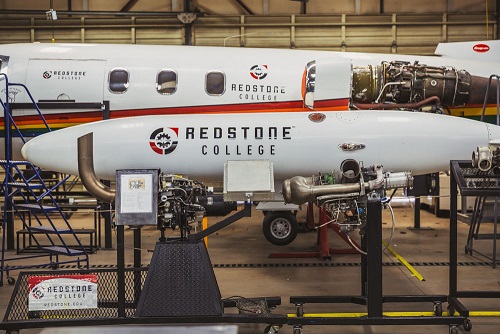 9564