Sports Authority is shredding sponsorship deals and breaching leases, but it can't avoid attorney's fees.
The two law firms hired by the bankrupt retailer billed their client $2 million in May, according to court documents filed Tuesday. One lawyer charges as much as $1,295 per hour.
Robert Klyman, a partner at Gibson, Dunn & Crutcher, billed the most hours and the second-highest rate for his firm, making him the highest-billing attorney in the Sports Authority case.
His bill in May came to $230,000, down from $300,000 in April, when he clocked 250 hours for $1,215 apiece.
Associate Andrew Magaziner of Young Conaway Stargatt & Taylor, the retailer's other law firm, billed 269 hours. His tab was $123,000 in May, making him the highest-billing member of his firm.
Because Sports Authority is a debtor in possession, its attorneys must submit invoices for court approval before they get paid. That offers a rare peek into hourly billing rates, which many firms do not disclose publicly.
Since March, the court has approved 80 percent of Gibson Dunn's fees and 100 percent of its expenses in March and April. Gibson Dunn received $3.2 million of the $3.7 million requested in those months.
The court has not yet approved fees or expense reimbursement for Young Conaway in March and April, according to the firm's court filing this week.
Together, the firms have requested that Sports Authority pay $6.3 million for services, not including the $4.4 million Sports Authority paid Gibson Dunn filing for bankruptcy in March.
The legal counsel representing the committee of unsecured creditors also needs court permission to cover its fees. Pachulski Stang Ziehl & Jones is charging $480,000 in April.
Pachulski Stang's highest-billing attorneys charge $995 per hour. The court has not yet approved its fees for March.
Sports Authority initially said it intended to restructure assets and emerge from bankruptcy a smaller company, but the sporting goods chain is instead liquidating its assets.
In a separate court filing on Tuesday, the retailer reported a net loss of $174 million in May.
On Monday, Reuters reported that Dick's Sporting Goods submitted a bid for 17 of Sports Authority's 464 stores. An auction to approve final sales is scheduled for next week.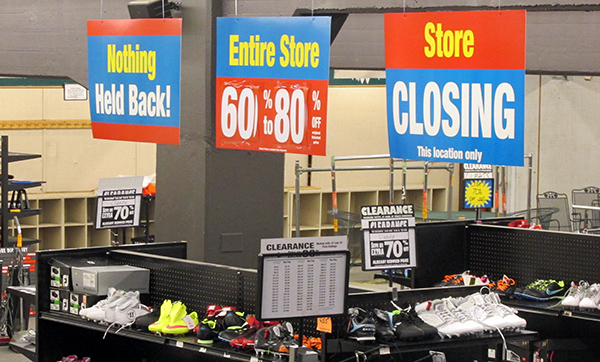 9526