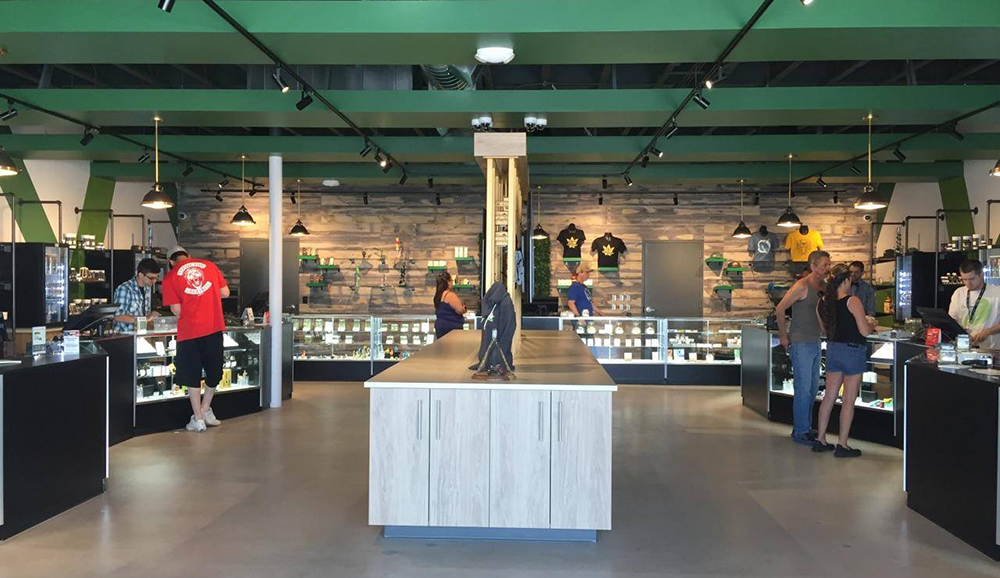 LivWell Enlightened Health has shed its Bob Marley posters, and outfitted its newest dispensary at Tejon and Evans to look more like a spa or a jewelry store.
The cannabis grower and retail chain opened its 14th dispensary on Friday, a 6,000-square-foot space at 1941 W. Evans Ave., down the street from its previous Evans location.
CEO John Lord said the new design is meant to entice the company's growing base of female customers.
"We're catering to a female shopping experience — a very comfortable, secure, well-lit environment, without it feeling overbearing," he said. "Retail is female-driven. We have to be cognizant of that and design our spaces accordingly."
The space has an open floor plan, with cash registers and glass display cases in a ring around a center island. Besides green beams crossing the ceiling, most everything in the store is a neutral shade of tan.
Lord said LivWell worked with Denver-based Elsy Studios on the interiors, but also did some of the design work itself.
The store is slightly smaller than LivWell's largest dispensary, a 7,000-square-foot space in Stapleton.
About 40 employees will work at this location, Lord said, many of them running the store's 20 cash registers.
The new space has little in common with LivWell's first dispensary as Lord remembers it, which was south of the old Gates Rubber building on South Broadway and in his words, "somewhat seedy."
"It was very much the quintessential Bob Marley experience," Lord said. "There were velvet curtains hanging and unframed posters of Bob Marley on the wall."
Seven years later, Lord owns 54 marijuana business licenses in Colorado (40 within Denver). LivWell has two grow sites totaling 170,000 square feet in Denver, he said, and employs 550 people.
In an interview with Marijuana Business Daily in September 2015, Lord said he expected LivWell's revenue to be "well in excess of $80 million" in 2015. But his growth projections for 2016 are conservative.
"LivWell will grow about 4 percent in terms of sales this year," he said. "Due to state-imposed plant count limits, we have to look out of state as a company."
The company already has formed LivWell Oregon, Lord said, but hasn't yet opened its first dispensary outside of Colorado.