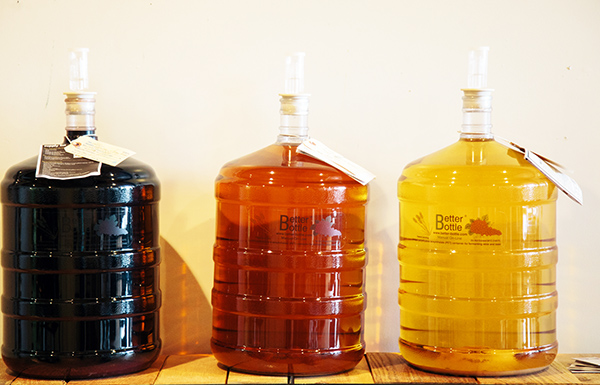 A RiNo store that teaches wine and cheese-making classes is starting to bottle its own supply.
Wine & Whey, which opened in 2013, already makes wine in the back of its shop at 36th & Larimer Streets and serves samples to customers attending its workshops.
"They would get to taste it, and they would ask, Where can I buy a bottle of this?" said co-founder Michelle Perea, who runs the shop with her fiancé and his parents.
Until recently, the answer was "Nowhere."
They finally answered customer queries this year, getting a limited winery license to go with the one-off classes, usually taught three times a week, which are the bread and butter of its business.
To start, Wine & Whey is selling wines made using kits it sells in the store, which are made by a Canadian company called Winexpert. The kits includes grape juice that already has been crushed and de-stemmed.
About six weeks ago, the Alcohol and Tobacco Tax and Trade Bureau (TTB) approved the label for the wine that Wine & Whey started selling in May exclusively at its store.
"It's called A Bad Wolf Red," Perea said. "It's nice and fruity, but it is also very oaky."
They made six cases in their first batch, with 12 bottles to the case. As of Tuesday, five bottles remained.
As for classes, beginner wine-makers can start fermenting for $35: in an hour and a half, they prep the wine, then return 45 days later to bottle it and give it a custom label.
And for $55 a class, cheese makers in training can watch and learn to turn milk into mozzarella, ricotta and cream cheese, cheddar or Monterey jack.
The shop also teaches classes to make up to 30 bottles of wine in four sessions, hosts team-building events for companies, and sells supplies for making wines and cheeses in its store.
Wine & Whey is waiting for TTB's approval to start labeling a strawberry white merlot and a blackberry cabernet.
House blends will be next, Perea said. The crew shipped in California grapes to crush themselves late in 2014. Those juices are now ready to bottle.
But while her in-laws own a farm in Colorado, Perea said they don't plan to start growing grapes just yet.
"We've thought about it," she said. "But Colorado soil is too good. The plants won't be stressed out enough to make good grapes."