Chris Wicken and his brother, Gregg, think helium balloons are fine for kids. But businesses that want to add a festive flair – such as car dealers and apartment rental offices – are better off with one of their inventive balloons that don't use helium. And last a lot longer.
Westminster-based Balloon Innovations has been making balloon kits that don't use helium; as well as balloons built to withstand snow in Minneapolis, heat in the Phoenix desert and wind in Corpus Christi, Texas, since the early 2000s.
"Wherever we think there's a market to put balloons, we're working on a solution," said Chris, 39.
Late last month, for example, they received a patent for a balloon stand — a slender rod with poles branching off in every direction and a balloon on the end of each.
It's the latest of six patents Chris has amassed since he entered the balloon business as a recent college grad from the University of Colorado Boulder in 1999.
At the time, Chris was weighed down by a low-paying desk job. For $15 worth of latex balloons and paper clips, Chris recalls, he and a friend would charge a car dealership about $200 to set up and take down balloon clusters inside a showroom. Soon they had about 50 customers.
"They would say, 'We love this, but we need the traffic to get inside the dealership,'" Chris said.
Easier said than done. Helium balloons shrivel under two days of sunshine and latex melts on hot days.
Chris eventually found workarounds for both problems. Air takes longer to seep out of a balloon than helium, so he made fiberglass rods to prop up air-filled balloons and suction cups to affix them to cars.
Later, he designed a balloon made out of plastic, like a beach ball, to avoid melting latex on the hood of a vehicle.
"From that point on, it was just a matter of making the product better," he said.
By 2002, Chris had started a company called Showroom Promotion to decorate car dealerships, changing its name to Balloon Innovations in 2004 when he realized that making unconventional balloons and accessories would be the future of the business.
The company's product lines since have ballooned. Today Balloon Innovations makes fiberglass balloon stands, "DuraBalloons" designed not to shrivel in cold weather and kits for 9-foot-tall balloon towers.
Besides car dealerships, customers now include Samsung, H&R Block and Boeing. Landlords put Balloon Innovations products outside of leasing offices and event planners buy them for trade shows. Altogether, Chris said, the business stretches into 14 states west of the Mississippi.
"Our biggest states are probably Southern California and Texas," Chris said. "For whatever reason, they're crazy for balloons down there."
Chris tells customers that his balloons will cost the same as buying two weeks' worth of helium balloons, except that his balloons last six months if they're outside or two years if they're inside.
"They're great for displays that you need to keep for a long time," Chris said. "We're not going to compete with the one-time birthday balloon."
Chris estimates that the company sold at least 500,000 balloons last year. Sales hit $7 million in 2015, he said, half of which came from installing balloon displays for customers.
About 70 percent of Balloon Innovations products are made in Colorado, Chris said, with other products made in China and Mexico. The company has 15 employees in Westminster.
And while Chris has no plans to let go of the balloon business, these days he's excited to develop other gadgets, like a magnetic clip that can dangle 24 pounds from a ceiling or a method for displaying flags.
"I think we're branching more into the innovation side as opposed to the balloon side," he said.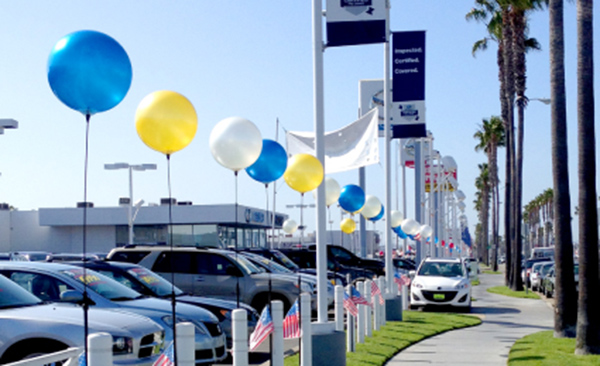 9119