The owners of the Washington Park Profile have added two neighboring newspapers to their publishing portfolio.
Jill and Jay Farschman, who bought the Profile last year from its long-time editor, purchased Life on Capitol Hill and Neighborhood Life on June 7.
Together, the publications now have a monthly circulation of 50,500 – more than double the Profile's reach – and span territory as far north as Martin Luther King, Jr. Boulevard, as far east as Quebec Avenue, as far south as Hampden Avenue and as far west as Santa Fe Drive.
Jill Farschman said adding the two papers will make it easy for advertisers that used to reach only one set of neighborhoods to buy space in sister publications covering other parts of the city.
"It makes sense because all three of the papers have a coveted demographic and longstanding histories," Farschman said. "You can see how advertisers would be attracted to expanding."
And while each paper will continue to publish separate print and online editions, Farschman said they'll add news with wider appeal, such as the new University of Colorado A Line, to each paper.
"Sometimes in one of our publications, you'll have a story that's of deep interest to one specific distribution map," Farschman said. "But you also know that there's a wider audience for the piece, too."
Farschman said the newspapers will consolidate into one office at East Jewell Avenue and South Pearl Street, where the Profile is based. Profile editor Haines Eason also will edit the other two papers.
The combined newspapers have a network of about 20 regular freelance writers and photographers, Farschman said, as well as three full-time employees.
The Profile and Life on Capitol Hill were founded in the 1970s.
The Profile covers a five-mile radius around Washington Park, delivering 8,000 papers to doorsteps and distributing 10,500 papers to newsstands in local businesses. The Life on Capitol Hill delivers 16,000 newspapers to subscribers and stacks another 5,000 in newsstands, covering neighborhoods north of Speer Avenue from Colorado Boulevard to Colfax Avenue as well as Uptown.
Neighborhood Life is the youngest and smallest of the three. It was started in 1999 as a sister publication of Life on Capitol Hill. Neighborhood Life delivers 9,000 newspapers door to door and places another 2,000 newspapers in businesses from the southwestern corner of City Park up through RiNo.
Shanna Taylor bought both Life on Capitol Hill and Neighborhood Life in winter 2015, just as the Farschmans were finalizing a deal to buy the Profile.
But when Taylor decided to sell the two papers this spring in order to pursue an opportunity out of state, she offered it to the Farschmans rather than open a public sale.
Farschman said she's thankful for that chance.
"There's both excitement and some fear and uncertainty that comes with this sort of change, so I'm very cognizant of that," she said. "Part of buying this sort of community-based, legacy business, like we did with the Washington Park Profile, is to shepherd it and protect it because it is a community resource."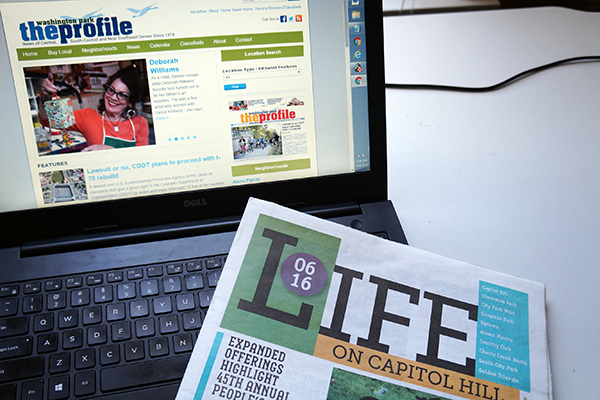 9058