If brewers can have tasting rooms, why not coffee roasters?
MiddleState Coffee, a Denver-based company whose beans are served at Little Owl Coffee in LoDo, is building a roasting and tasting room at 4th and Broadway to make room for more wholesale business.
MiddleState co-founder Jay DeRose, 25, said his days roasting beans in the 200-square-foot backroom of men's clothing boutique Steadbrook on South Broadway soon will be over. He's almost done building out a space three times that size at 17 E. 4th Ave.
Instead of advertising the tasting room or keeping it open during regular hours like Little Owl's café, DeRose plans to open it up for free tastings to friends and passers-by.
But he suspects that news of the coffee joint will leak.
"It'll just be for people in the know," he said. "But I think there are going to be a lot of people in the know."
DeRose, once a barista at several Denver coffee shops, started MiddleState Coffee in 2013. MiddleState merged with LoDo coffee shop Little Owl in October 2014 and is now co-owned by Little Owl's Seanna Forey.
As a coffee connoisseur, DeRose said he'll sell only to customers that care about the goods as much as he does; leave the beans with ill-trained baristas or over-roast them and you'll ruin a great cup of Joe.
"I don't do any restaurants," he said. "They just butcher their coffee."
DeRose's vision for the roasting and tasting room starts in the basement, where he plans to store unroasted beans. Then, he wants to make a dumbwaiter to lift the beans to the ground floor, where they'll feed a 1950s German roaster at the center of the room.
"It's kind of like our little lab," he said.
Instead of walking up to a counter at the back of the room, visitors would stand at counters circling the roaster, which DeRose hopes to build using reclaimed industrial workshop tables.
Add an espresso machine and DeRose reckons he'll have a tasting room. The place can fit as many as 20 people at a time, he thinks, plus two offices he's renting to friends in a loft upstairs.
The space has passed inspection to roast, he said, but not to operate as a full-service cafe with food and coffee.
There's just more thing he needs to get cooking: a roaster. DeRose expects the machine will arrive in Denver come July.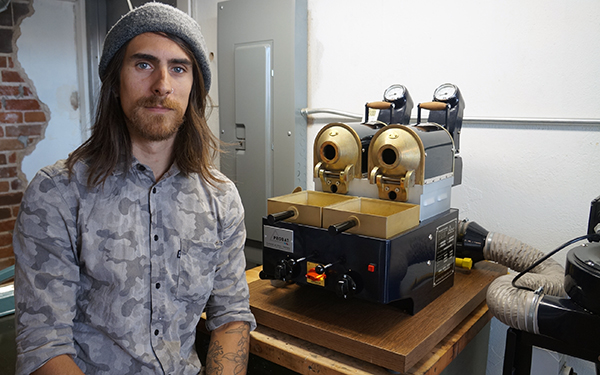 8902