There's another construction site up and running in Sloan's Lake hoping to lure tenants who can't afford the Highlands.
Peak Development Group and Slipstream Properties broke ground last week on a new 58-unit apartment building just north of Colfax Avenue on Xavier Street.
Peak Development's Chad Ellington said it should draw renters that want to stay near the city center but need a little relief from sky-high rents in the area's hottest neighborhoods.
"We've been watching the Sloan's Lake area for the last year or two," Ellington said. "We're tailoring our units towards the young professional that wants to live in downtown but can't afford the Highlands."
X at Sloan's Lake, as the project is called, will come out of a 0.35-acre parking lot that Peak Development bought last fall for $640,000. It's the first ground-up apartment building for Peak Development, which Ellington launched last year after heading up Oakwood Homes' land-development group for 10 years.
Plans call for a mix of studios and one-bedroom apartments, with a handful of two-bed units. Studios will average about 460 square feet. The one-bedroom units will be about 620 square feet and the two bedrooms will top out around 875 square feet.
Ellington estimates rental rates will be between $2 and $2.50 per square foot.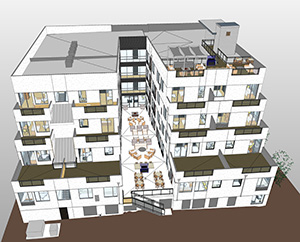 X at Sloan's Lake will find plenty of competition trying to draw renters to the West Denver neighborhood. Sloan's Lake is booming with all sorts of residential development, including at least one massive apartment complex, several planned townhome projects and a rare Denver condominium project.
Ellington said his planned completion date in June or July 2017 could give him a slight advantage by beating other planned developments to the market. But he also realizes he might have to take a hit on that first month of rent.
"There are lots of units coming to market," Ellington said. "We'll have to play the concession card some, but we don't think we'll have a lot of trouble leasing it up."
Ellington said the Alexan at Sloan's Lake, a new Trammell Crow Residential apartment complex with more than 350 units, likely will be his closest competitor. He hopes the smaller X at Sloan's Lake will have a different feel than Alexan.
"We'll be more of a boutique building, and not a larger, 350-unit community where there are so many people living right there," Ellington said.
EV Studio designed X at Sloan's Lake. Catamount Constructors is the general contractor and Great Western Bank is financing the construction.
Ellington's next project is very close — he has the office building next door at 1516 Xavier St. under contract, and hopes to renovate that building into another 22 apartment units starting early next year.