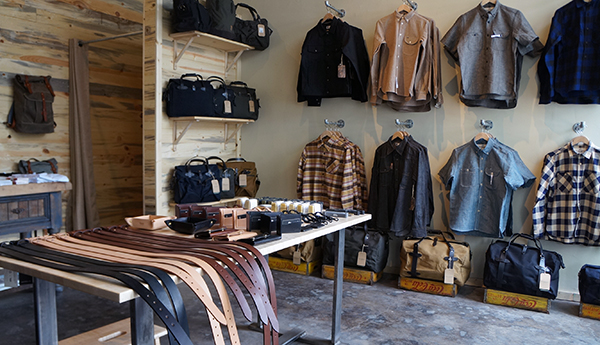 A Berkeley boutique cruised onto Colfax Avenue last weekend.
Men's clothing store Berkeley Supply opened a 300-square-foot storefront at 3229 E. Colfax Ave., next to Atomic Cowboy.
Founder Eli Cox, 29, said the plan is to reserve rack space on Colfax for different cuts of denim pants, jackets and shirts that he can't fit in the company's shop at 4309 Tennyson St. Atomic Cowboy used to use the space for storage, and Cox said he's subleasing from the restaurant.
"It's not very big, but it does the trick," Cox said of his second shop. "The plan is to make it very denim-focused. That's probably one of the biggest things people come into the store to buy."
The Colfax shop stocks more fits and dyes of the same denim brands – many of them made by California brands — than the original store, Cox said. It also sells messenger bags, belts and other accessories available at the Berkeley store.
Cox opened the first Berkeley Supply store "on a spur-of-the-moment decision" in December 2012.
A graduate of Johnson & Wales University, he had been working at a restaurant in Denver when he heard about retail space opening up on Tennyson and decided to claim it.
At the time, Cox couldn't find a shop in the Denver area that stocked much of the American-made menswear he bought from retailers in New York City, Boston or Los Angeles. So he started one.
"I wanted to open a store in Denver that didn't exist," he said. "I wished it was available in Denver and I thought, there's got to be other like-minded people."
Berkeley Supply opened with six vendors and now has about 60, he said. As priced on the shop's website, jeans start around $220 and button-down shirts at $180.
Cox has one full-time employee and a handful of part-time workers. He said the company has been making steady profits since it opened.
The next challenge is starting his own line of clothing.
Cox has been working with out-of-state garment factories to produce a Berkeley Supply shirt line for this fall, and hopes to have his own flannel and denim button downs on the shelves by November.
"If you make a good shirt that looks good with everything, it's not as challenging as making an incredibly good-fitting pair of jeans," he said. "And I think shirting is one of the more approachable things for people to buy."