The first retail tenants are moving into a 40-year-old Cherry Creek office building that's wrapping up a $6.5 million face-lift.
Uptown restaurant Olive & Finch, Tru Fit gym and Kohler are moving into 33,000 square feet of new retail space at 3300 E. First Ave. In the last year, Denver-based Ogilvie Properties has renovated the building and added a retail operation.
The company zeroed in on the building two years ago when tenant Key Bank announced it was vacating 30,000 square feet.
"We bought the building knowing they would move out in August 2014," said Stuart Ogilvie, who heads up Ogilvie Properties. "We saw an opportunity to convert the first floor and the lower level to retail."
Ogilvie bought 3300 E. First Ave. with an 0.72-acre lot along Cook Street in October 2013 for $14 million. The plan was to renovate the office building and sell off the second lot to another developer. Trammell Crow Residential bought that site for $3.5 million a year ago and is building a new apartment complex.
At the time, Ogilvie's building had about 93,000 square feet of office space, but no retail space. Since then the company has renovated the office space and built a new retail addition stretching towards First Avenue.
The company punched new windows into the existing 40-year-old building and took on a substantial interior renovation.
"We basically touched every square inch of this building," Ogilvie said.
Ogilvie Properties is still planning a new lobby that will hook into Trammel Crow's apartment project. The building also will use about 215 parking spaces in the apartment complex's parking deck once that project is finished.
The retail space is fully leased. Olive & Finch's second location will take about 2,500 square feet. Bathroom and kitchen outfitter Kohler is opening a 4,500-square-foot showroom at 3300 E. First Ave. and Tru Fit anchors the retail portion with a 27,000-square-foot gym.
Rich Hobbs and Scott Crosbie at Crosbie Real Estate Group handle retail leasing for the property. Ogilvie declined to say what the retail space is leasing for, but said one of his major selling points was a lower price than retailers pay in the heart of Cherry Creek North.
"It's a lot less expensive here than in Cherry Creek North," Ogilvie said. "And we have parking that a lot of Cherry Creek stores would like to have."
Ogilvie added that Olive & Finch will be able to draw from a both office and residential traffic as one of the only places to eat south of First Avenue.
"There are no restaurants over here now, and crossing First Avenue can be a suicide event," Ogilvie said.
The revamped office building has about 66,000 square feet of space. AJS Ventures is the largest tenant in the building at about 8,000 square feet. Ogilvie said the building never closed during renovations, and the office space is about 90 percent leased.
After renovations are complete, however, Ogilvie is expecting some turnover. Right now, office space is leasing in the low $20-per-square-foot range. Ogilvie plans to rent the renovated building in the low $30s.
"Rates are rising," Ogilvie said. "And some of the tenants are going to stay and some are probably going to move out."
Pinnacle Real Estate Advisors brokers Jeff Caldwell and Blake Holcomb are marketing the office space.
Studio DH was the architect on the 3300 E. First Ave. project. Hyder Construction is the general contractor, and Colorado Business Bank financed the construction.
Now Ogilvie Properties is turning its attention to Tower Colorado, a 15-story building at 1720 Bellaire St. the company bought earlier this year. That project will take a similar path as the First Avenue one, Ogilvie said.
The company plans to renovate the building, adding a new lobby and converting a top-floor fitness center into office space.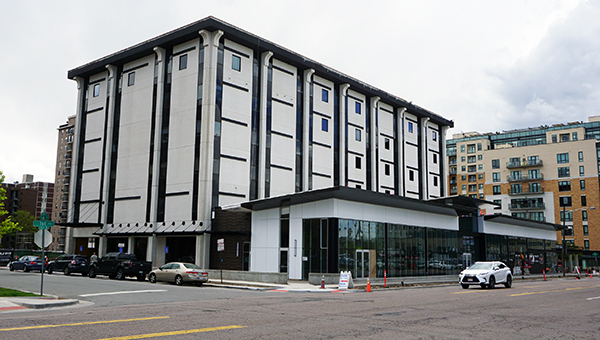 8748