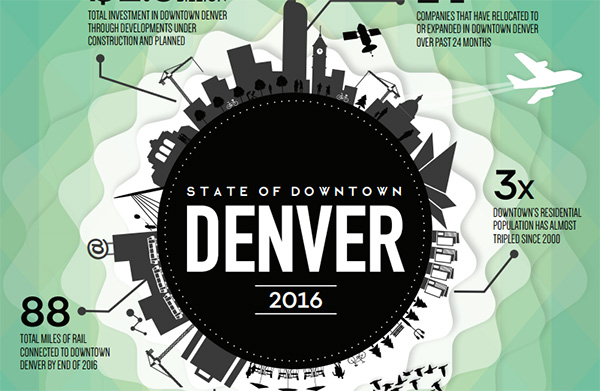 There's about $2.5 billion paying for all of those cranes downtown.
The Downtown Denver Partnership gave that figure Tuesday at its annual State of Downtown Denver event, reporting there's about $2.5 billion worth of development either planned or under construction.
These projects will bring more than 1,200 hotel rooms, 4,500 residences and 2.7 million square feet of office space to the urban core, the partnership reported. (You can see the annual report here.)
Those were the highlights of the annual report the Downtown Denver Partnership released at a well-attended breakfast event at the Hyatt Regency Denver at Colorado Convention Center. CEO Tami Door delivered a keynote address explaining the findings, followed by a panel discussion about how far downtown Denver has come and where it may be headed.
Developer Chris Frampton hopes real estate development will start moving east, out of the Union Station neighborhood his firm, East West Partners, co- developed. All the land at Union Station is spoken for.
"The station is done," Frampton said. "It'll be interesting to see what will be that juice, that steroid to continue to drive development."
He added that the pieces may be in place for Arapahoe Square – a stretch of downtown roughly bounded by Larimer Street, Glenarm Place, 20th Street and 23rd Street – to host the next big Denver development boom.
Frampton noted that transit infrastructure and bike paths are in place in Arapahoe Square for developers with a mind to build.
"It doesn't have any of the barriers that other places have," he said.
Frampton mentioned a couple of major challenges the city will need to tackle, with affordable housing, particularly on the for-sale side, being chief among them.
Second, he said, developers will need to strike a balance between building and keeping local residents comfortable with the rapid change rolling through downtown neighborhoods.
The partnership has helped 24 companies to relocate their headquarters or expand into downtown Denver. SendGrid, an email tech company, is set to do just that by moving its headquarters to 1801 California St. this year.
Scott Heimes, SendGrid's chief marketing officer, said the key to keeping tech companies flocking to Denver will be to attract the tech-savvy employees these firms seek. Craftsy CEO John Levisay raised this concern a year ago at the 2015 State of Downtown Denver event.
"It's increasingly challenging to compete with Silicon Valley, which is where the locus of that talent is," Heimes said.
The partnership also reported:
123,548 people are working in Downtown Denver; 75,972 residents live downtown; and there are 54,000 students at downtown colleges.
Downtown retail business drove about $45 million in sales taxes in 2015.
The 32 hotels downtown averaged about 78 percent occupancy for 2015, pulling in about $139.58 per available room, per night.