A decade after its last worship service, a Brighton temple is about to be reborn.
Architect Carolyn Corogin is revamping a former Buddhist temple in Brighton with plans to deliver a new retail development this summer. It's a $700,000 rehab project that Corogin hopes will land a brewery or taproom near the corner of 1st Avenue and Bridge Street.
"This is Brighton's main street coming into town; you can see it on the way in and from the other direction," Corogin said. "If you put a brewing tank or a brewpub sign on the building, the visibility will be great."
The building is a 70-year-old temple on about 0.15 acres. Japanese farming families built it in the late 1930s and it opened in 1940. According to a Denver Post story, the temple closed in 2005 after its membership had dwindled to about 20 worshippers.
A developer bought the site, but the building has sat empty for 10 years. Corogin bought the building last year for $150,000, Adams County records show. The temple showed signs of neglect, Corogin said, but remained structurally sound.
"It had bats, asbestos, all of the old building things," Corogin said. "But for as old as it is, it was still doing pretty well."
Construction started in January, and Corogin plans to finish work by June. When it's finished, the development will have about 5,300 square feet of leasable space with a walkout porch and second-story deck on the building's back side.
The space is for lease at rates of $14 per square foot for a below-ground first floor and $24 per square foot for the street-level second story. Corogin said it could fit two tenants, but she would prefer to lease it out to one business. Broad Street Realty broker Forrest Bassett is marketing the space.
Corogin said she liked the building for its easy highway access, but its location north of Denver has made it a bit of a tough sell.
Corogin is trying to convince potential tenants that Brighton isn't that far of a trip from Denver.
"People don't understand that Brighton is only 30 minutes away," Corogin said. "You could be on I-70, or Colorado Boulevard, and it would take you longer to get to work in some parts of Denver."
Tradesman Colorado is the general contractor on the job. Corogin's firm, C2 Studio, designed the renovation.
The project is the first development Corogin has headed up on her own, and she's looking for the next deal. She's looking for projects about as big as the Brighton temple or a little bigger.
"We work like dogs as architects but it's always for the clients, and they get the profits from the project," Corogin said. "This was a good-sized project that I could handle on my own."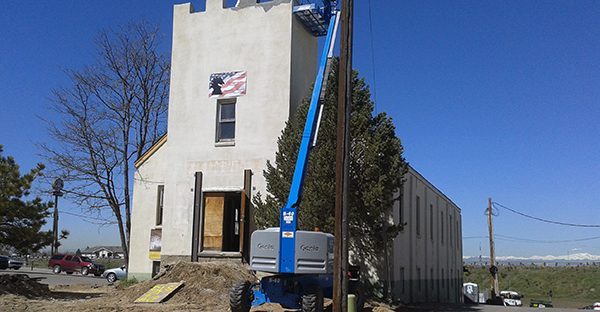 8648