Sometimes it's the last lap that really gets the wheels turning.
Craig Mansfield is launching a new kart-racing series in Colorado that will hit four racetracks on four weekends this year. Mansfield starting working on the idea a year ago when word got out that a track at Centennial, about 20 minutes from Mansfield's home, was shutting down.
"We lost the track at Centennial after about 10 years," Mansfield said. "But in order to not lose racers – they're sometimes very loyal to some tracks – we wanted to pull these tracks together to start a regional series."
Karts are small-scale, open-wheel race cars ranging from the two- or three-horsepower putters that zip around an amusement park to high-powered machines capable of topping interstate speeds while weighing only a few hundred pounds.
The green flag drops on Mansfield's Colorado Sprint Championship (CSC) on May 14 at the IMI Motorsports Complex in Dacono. Racetracks in Grand Junction and Calhoun are booked for June, July and September.
Mansfield is expecting about 100 racers will turn out to compete in about 10 different kart-racing classes at each two-day event.
Drivers will range from 5-year-old kids fighting for position in 35-miled-per-hour mini karts to adults redlining at 90 mph on IMI's backstretch.
CSC is keeping itself afloat with a one-time, $35 entry fee teams will pay for the four-date series. Mansfield, who runs a property-maintenance company as his full-time job, said he's not planning to make big money from the events.
Instead, it's the tracks that will be the real winners.
Mansfield said each racer will pay $85 per weekend to drive. Teams also can rent a pit stall at the track for another $20. All of those fees, Mansfield said, will go to the tracks. Kart-less drivers may rent a chassis and engine from the track for a weekend, and Mansfield said the venues also will benefit from selling equipment and parts.
In two days of side-by-side racing around tracks with 10 or more turns, Mansfield said karts are bound to need a tuneup or a new part.
"These aren't like your car out on the road," Mansfield said. "These things are on edge all of the time."
Tire company MG Tires and engine-maker Rotax are series sponsors, and are offering its drivers discounts on equipment. Rotax already has sold at least 20 engines to CSC racers, Mansfield said.
Mansfield has been racing karts for 17 years. He grew up near a dirt track in New York but it wasn't until about his 50th birthday that he got hooked on driving and working on karts.
Mansfield launched Kart Racing for Heroes, a charity racing event, about six years ago, in memory of son Kristopher Mansfield, who was struck by a drunk driver and killed in 2004. At the time, Kristopher was a senior airman stationed at Buckley Air Force Base.
Craig Mansfield will host two Kart Racing for Heroes events in conjunction with the CSC races. But while Kart Racing for Heroes drivers will be racing for a cause, Mansfield said the CSC drivers are on the track for prizes.
MG Tires is giving away a free set of tires – each set will be worth more than $200 — to winners at each race. MG also will pay to enter series winners into a kart-racing championship in Las Vegas this winter, and one CSC racer will win an all-expenses paid trip to compete in the Granja Viana 500 kart race in Brazil.
Mansfield expects most of the 100 drivers that will navigate the 1-mile course at IMI this month will drive in each of the four events to remain eligible for the final prizes.
Mansfield plans to enter at least one of his own karts at IMI, but said he's in it for the race process as much as the race itself. He enjoys tinkering with his own karts, and to make them handle better and slide through turns a little faster.
But the real fun, he said, is hanging with fellow racers off the track. CSC is hosting a lawn chair dinner on Saturday night each race weekend, and Mansfield hopes the series will keep kart enthusiasts chatting after the checkered flag flies – even if the last lap is still on their minds.
"When you race, even if you don't win you smile until the next race," Mansfield said. "Even while you can't stop thinking about that corner you messed up."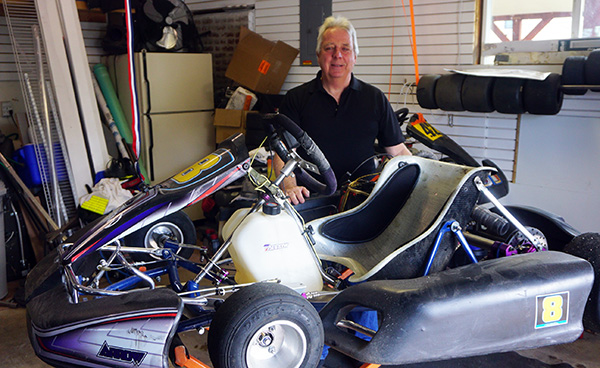 8631