Minivan Mom isn't the only one who digs the cargo space and comfy bucket seats of a Dodge Caravan.
Last fall, University of Colorado alums Dillon Hansen and Jon Moran rented out their first retrofitted Dodge Grand Caravan campervan.
By June, Hansen, 30, and Moran, 31, will have a fleet of six modified vans and hope to hit $100,000 in revenue for their startup, Native Campervans.
"We thought, there's no one doing this for the budget set," Hansen said. "We're looking a little bit more from a reliability standpoint and more modern fixtures."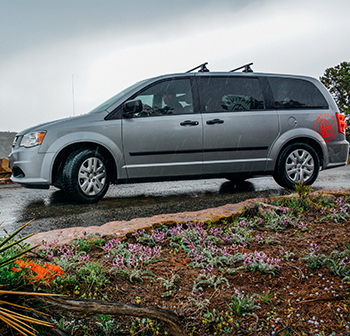 Competitors charge $640 a night to rent an Airstream, or $155 a night to rent a 1980s Volkswagen.
Hansen said Native Campervans aims for customers that don't want the expensive luxuries of renting bigger or iconic vehicles, or to have to purchase thousands of dollars in camping gear.
To lower costs, Native Campervans starts with Dodge Caravans, which Hansen said are reliable and cheaper than other minivans.
The company then takes out the second row of seats to make room for storage, a bench facing the back of the van and a table that breaks down to fit a double bed.
The trunk holds a kitchenette with a sink, propane stove and cooler. The whole process takes about three weeks and around $4,000 to complete, Hansen said.
For between $65 and $140 a night, a Native Campervan is ready to roll with pots and pans as well as blankets and sheets.
"Hit the grocery store and you're off," Hansen said, noting that the average price of $99 a night includes 100 free miles.
Hansen expected customers to be mostly 25-to-45-year-olds – out-of-state tourists or those that just moved to Colorado.
Instead, many customers are from Australia, New Zealand or Europe.
The idea for the company came in 2014, when Hansen bought a 1991 Volkswagen van, quit his job and started driving across the West.
His college buddy joined him joined him a year later – not just as his co-pilot during a camping trip, but also as the co-founder.
These days the fleet is small enough that Hansen takes customer calls on his cellphone, even arranging for roadside assistance hundreds of miles away. And on the side, the co-founders help manage the fleet at Living Mobile, an Airstream trailer rental company in Denver.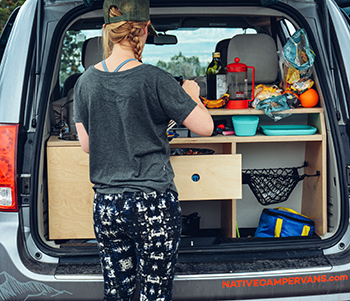 The co-founders would like to add Mercedes Sprinters, off-road vehicles and Airstreams to the rental catalogue in order to attract a wider range of customers.

But to sustain a bigger fleet, the company must find a way to ride out the winters. This year, they rented vans to tourists driving from DIA into the mountains. But in the future, Hansen said, the company could move part of its fleet to warmer climates, such as Los Angeles or Las Vegas, when Colorado cools.

Another option is selling customers kits to make their own campervan.

8579