Ever since Great Divide opened its $10 million RiNo bottling facility in July, patrons have asked about renting the warehouse for private events.
The answer was always, "No thanks."
Until about a month ago.
Great Divide's barrel bar in RiNo opened the taps on a private event space next to the spot where it fills cans and kegs. (The beer still is brewed at the Ballpark facility and trucked over). And the first paid event is this evening.
"It's very different in that it's not just the side room off the bar," said Brian Dunn, founder and president. "And the beer is fresh."
Great Divide is among only a handful of breweries with space for larger private receptions, parties and happy hours. Wynkoop Brewing Co. will rent out its entire facility for up to 1,200 people, according to its website. Breck on Blake can host up to 80 people in a private room for a $1,500 minimum. And Epic Brewing and Denver Beer Co both have room for about 60.
Andrea Bracken, who manages private events at Great Divide when she's not tending bar, said the 1,500-square-foot ground floor spot next to the packaging operation costs $175 an hour plus $5 for every guest. It can fit around 250 people without seating.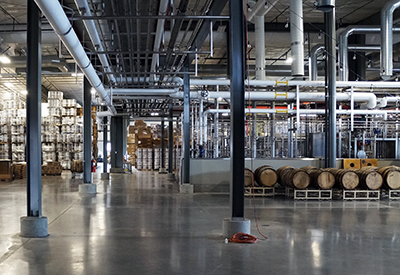 A smaller second-floor mezzanine overlooking the production area, with views of the mountains and skyline costs $125 an hour plus $5 per guest. It can accommodate 100 people, unseated.
The brewery is determining how to price reservations of the bar itself, Bracken said. For now, bar bookings are available only on Mondays and Tuesdays, for up to 60 people.
Dunn said since Great Divide charges extra for food, beer and staffing, it's leaning toward quoting one price to make the math simpler for customers.
Great Divide has hosted four events and booked the space for as many as 325 people, Dunn said, primarily company events and professional group happy hours.
The private event gets three or more inquiries every day, enough that Dunn said Great Divide has opted not to advertise the private event space yet.
"We feel like we need to get our feet underneath us and get a couple of great events," Dunn said.
Great Divide is the seventh-largest craft brewery in Colorado by the number of barrels it produced in 2014, according to a ranking the Denver Business Journal published in December.