The money's rolling in fast for a Centennial company aiming to break the speed of sound.
Boom Technology, the startup that last month unveiled plans to build a supersonic passenger plane, has sold $2.1 million in equity to investors, according a filing with the SEC on April 18.
And its founder, Blake Scholl, said he's yet to file the paperwork for more investments that would push the amount raised past $5 million.
The goal is to build a plane fast enough to shave more than 3 1/2 hours off a flight to London from New York. The company has a high-level blueprint and a General Electric engine that can fly even faster than the speed it's targeting, Scholl said.
"What's different about this is that every single component, every key ingredient already exists," he said. "Our headline is: We're building a supersonic airplane you can actually afford to buy."
Scholl said a prototype will take flight at the end of 2017. It will be one-third the size of the 150-foot final model Scholl is working on, which will retail at $200 million.
It's been about 13 years since the Concorde made its last transcontinental, supersonic flight. Scholl said Boom is keeping its eye on fuel efficiency, which largely determines ticket price.
"When tickets cost $20,000 each, it's not really practical to sell 100 seats," Scholl said of the old Concorde.
The Boom airplane is smaller, only 40 seats, and aims to charge $5,000 for a roundtrip ticket.
Scholl said technological advances, including better engines and aerodynamics as well as lighter, moldable, higher temperature-resisting fiber composites, also give Boom an edge.
Another advantage is software simulations to design and optimize planes before ordering expensive parts, and building a prototype.
Scholl wants to grow his company to a larger fleet that flies more routes than the 20 Concordes that once flew exclusively between London and New York.
A smaller fleet meant more expensive maintenance, he points out, and the Concorde market was never big enough to merit tweaking the design for a second generation of airplane.
If bigger players such as Boeing and Airbus haven't made a supersonic jet, Scholl thinks it's because they're slow and their costs are higher than a small startup, such as Boom.
Scholl said Boom plans to grow from its current 13 employees to 45 by the time its prototype takes off. While Scholl's background is in software startups and the e-commerce giant Amazon, he said he has "kind of turned on the Bat Signal" to attract folks that worked on things such as the autopilot for the Boeing 787 and flight dynamics for Virgin Spacecraft.
Boom is honing ever-smaller details of the design. Scholl likens building a plane to producing a movie, with scripts becoming storyboards, storyboards being filmed and film getting edited into a feature.
"There's nothing impossible, but there are many things that are hard," he said. "To pull this off you need a consistent level of execution across every piece."
Everything needs to work, he said, and it needs to work the first time.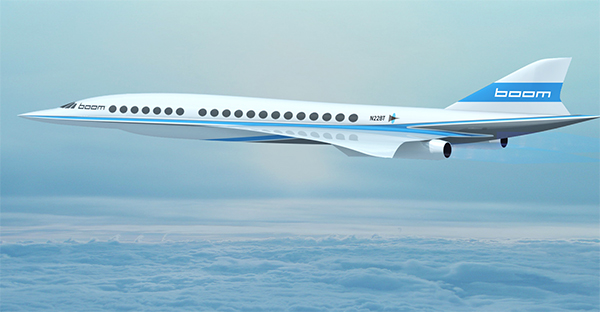 8492