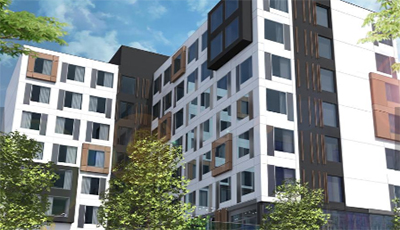 A new hotel brand is coming to a $35 million Cherry Creek project.
BMC Investments will go with the Marriott Moxy brand for its new building at 240 Josephine St. in Cherry Creek. Company CEO Matt Joblon said the Moxy hotel will cater to travelers that want a cheaper lodging alternative in Cherry Creek.
The Moxy also will help BMC stay out of its own way as the company builds a high-end hotel it's calling The Halcyon on the same block.
"We wanted to do a limited-service hotel with a much lower price point than the Halcyon," Joblon said. "We wouldn't want to build something that would compete directly, so we wanted something on the other end of the spectrum."
Moxy is a new brand for Marriott. It launched in Europe in 2013 and the brand's website shows only one Moxy open in the United States, with several more in development.
The concept features a fitness center, bar and a shop where guests can pick up meals to go, but Moxy will not have a full-service restaurant. BMC's Moxy will have 170 rooms averaging only about 191 square feet per room.
Moxy's smaller room size was another major draw, Joblon said. Cherry Creek North zoning calls for 15 percent of the property to remain as open space, and that meant BMC would have to fit in a few extra units to make the numbers work.
"The only real way to optimize the site from a density standpoint was to do something with smaller rooms," Joblon said.
The hotel will replace a smaller building that once hosted the Opus restaurant and office space at 240 Josephine St. Joblon hopes to clear the site in a couple of weeks. It will take about 14 months to build the Moxy.
Vision Hospitality Group will operate the Moxy hotel. JNS is the building's architect and GE Johnson is the general contractor. FirstBank is financing the project.