Cemeteries aren't just for bagpipes and black gowns.
Fairmount Cemetery opened a new event center this month aimed at bringing less-gloomy business – including birthdays, corporate gatherings and weddings — to the East Denver funeral home.
"Our board of directors about two years ago was thinking in the long term and wanted to figure out how to keep Fairmount around another 125 years," said Onda Vega, the venue's events director. "With the changes in the death-care industry, it was a natural transition to move into life events."
The new event space, which the cemetery is calling Quebec Place at Fairmount, is part of an $8 million renovation that also added three new mausoleums, gardens and plazas to the 280-acre cemetery complex.
The event space itself cost about $5 million, Vega said. Fairmount built Quebec Place in its former cemetery office and main mortuary chapel. The building, which was about 55 years old, was starting to show its age.
"It was built in the 1960s, it wasn't wheelchair-accessible, and honestly it was ugly," Vega said. "It needed a face-lift, so we completely gutted the top floor and added 4,000 square feet of office space and now it is an almost serene setting."
Renovations started near the beginning of 2015. Fairmount got its certificate of occupancy earlier this month, Vega said. Now the tough part starts: Convincing renters to hold a celebration at a place known for funerals, mausoleums and gravestones.
So far, Vega said, Quebec Place has been an easy sell to people she can get onsite for a tour of the facility.
"We understand at the end of the day we're a cemetery and we're not going to be a good fit for everyone," Vega said. "But once people hear of us and get over that first reaction, set the appointment and see the facility, they're blown away."
To try to get potential renters through the door and over the thought of celebrating next to a graveyard, Fairmount has started advertising in bridal magazines and trade shows.
Sprocket Design-Build designed Quebec Place and was the general contractor on the renovation. The space measures 2,700 square feet and can hold up to 200 people.
Fairmount Cemetery has been around since 1890. It was designed by Reinhard Schuetze, the same landscaper that laid out City Park, Congress Park and Wash Park. The cemetery's website claims 19 governors and 11 senators among the deceased with graves at Fairmount. The cemetery is still selling plots today.
Fairmount does anywhere from 15 to 30 funerals a month. Vega would like to fill up Quebec Place's calendar to keep a full slate of non-death related events moving through as well. For example, there's a Sock Hop-themed birthday party and charity event on the books for May.
Vega said Fairmount is the only Denver cemetery chasing weddings, birthdays and more joyous, non-funeral-related events. And while she said it is important to keep a curtain between revelers and mourners, Vega added that the new venue still could help support the funeral business.
She said there's been a trend towards adding receptions to burial services, and trying to bring some sort of celebration out of an otherwise mournful event.
"It's becoming 'Mom loved her cocktails, let's have a cocktail for mom,'" Vega said. "Let's honor this person, share stories, laugh and have a good time with each other."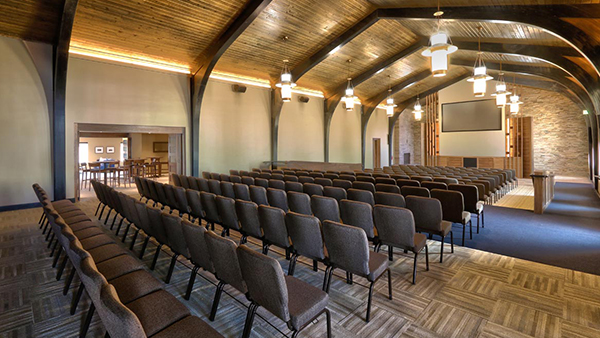 8462