A North Carolina group has hooked a longtime Denver chef to debut its first restaurant in downtown Denver this summer.
Raleigh-based Urban Food Group has hired John Broening, most recently of Uptown's Argyll Whisky Beer, to man the menu at a restaurant called Avelina.
Urban Food Group, which owns and operates five restaurants in North Carolina, plans to open its first spot outside that state in July at  1550 17th Street.
Kevin Jennings, who operates Urban Food Group with his wife, Stacey Jennings, said the couple has been visiting Denver to enjoy local food for 20 years.
"I wouldn't be going (to Denver) if I didn't think the food scene is cool and that we could add to it," he said.
Jennings thinks the location will encourage foot traffic, being across from The Oxford Hotel and within walking distance of landmarks such as Union Station, Larimer Square and Coors Field.
The 5,000-square-foot restaurant will serve dishes inspired by cuisine found in countries such as Italy, Spain and Greece, he said, with entrees ranging from $18 to $35. It will be open for lunch, dinner and Sunday brunch, he said.
Jennings said Broening, who also directed the menu at the now-defunct French restaurant Le Gran Bistro, is a fit not just because of his food (Jennings savored his mushroom ravioli and a Moroccan chicken dish in a tasting test), but also because he's familiar with local tastes and knows how to source ingredients in Denver.
Atlanta-based architects Ai3 are designing the restaurant and Denver-based Spectrum is the general contractor.
Jennings said Urban Food Group has been leasing the space, which will seat about 120 people inside and at least another 20 on a patio, since December 2013.
He said Avelina has been delayed by its landlord assessing the potential effect of a restaurant on tenants upstairs, and Denver's licensing and permitting process.
Jennings estimated he will spend about $2 million building out the restaurant, or about $400 per square foot.
Jennings and his wife started Urban Food Group in in 1997. The company first announced it was moving into Denver in June.
And despite the wait and cost, Jennings is hoping to do more Denver restaurants, he said, "assuming it goes well and the public embraces our out-of-townness."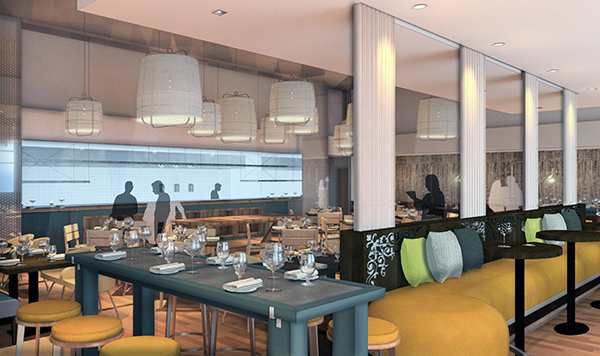 8363