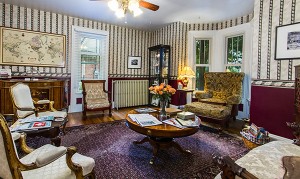 The owner of a 150-year-old bed-and-breakfast in downtown Golden is hanging up her hostess hat.
Elizabeth Padilla purchased the Victorian-style Dove Inn, sections of which were built in 1866, for $1 million in 2012 and added a stand-alone suite over the inn garage.
"I was a flight attendant for years and had stayed in one too many hotels," said Padilla, 53.
She has listed the nine-bedroom, 10-bathroom property a block east of the Colorado School of Mines for twice what she paid.
Debbie Zucker Anderson of LIV Sotheby's International Realty is co-listing the house, which is zoned for commercial and residential use, with Barbara Currie of Genesee Commercial Group.
The nearly quarter-acre property at 711 14th St. hit the market last week.
A Golden meat market owner named Ebenzer T. Osborne built what is now the Dove Inn in 1866, according to local historian Rick Gardner. The property was split into two apartments at the end of the 1920s, Padilla said.
The house at 711 14th St. has been a bed and breakfast since 1984, she explained; in the 1990s, the owners added three new bedrooms to the home's 6,000-square-foot footprint.
Padilla said lots of "little cubbies" remain intact from the original building: the cellar that once held coal to heat the entire house and the front stair that "dips in the middle where people step up to the front door" from over a century's worth of feet making the walk.
Padilla has made her own mark on the place, too. Her proudest achievement is converting a first-floor storage room into a 900-square-foot space with a big-screen monitor for showing slides at business meetings and bamboo flooring for teaching yoga classes.
She also added a kitchen, bedroom and bathroom to the room above the garage and now rents the suite for $1,800 a month to guests that want to stay for longer than the typical bed-and-breakfast crowd, often visiting School of Mines professors or people searching for a permanent home.
The rest of the rooms start at $135 a night and go up to $195. Breakfasts include homemade granola, a pastry every day and a hot dish such as a casserole or omelet.
But even for someone who says she thrives on "little sleep and lots to do," running a bed-and-breakfast site is a handful. Padilla has considered turning the Dove into an inn without breakfast, but that feels like reneging on the vision she had for it on the first night she visited four years ago.
"I remember spending the night and thinking, 'I could do this and I could do that.' And now I've done everything I wanted to," she said. "It would hurt to stay and make it something else."
And besides, Padilla has other things to pursue. She teaches yoga and facilitates retreats for couples and individuals that run up to a week long. When she leaves the Dove, Padilla hopes to advocate for mental health legislation and start hosting mental health retreats, too.
The Dove must also move on, she said. It could become offices or a family home. Or stay a B&B.
"I do kind of want to find the right person to replace myself," she said. "But the great thing about it is they can do whatever they want with it."