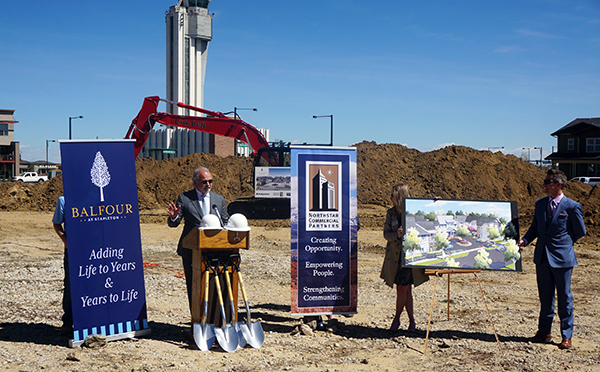 A downtown senior living center is getting a slightly younger sister.
Balfour Senior Living and Northstar Commercial Partners broke ground Thursday on a 74-unit assisted-living facility in Stapleton. Balfour CEO Michael Schonbrun said the new Balfour will be the first assisted-living spot in Stapleton and will benefit from nearby 55-and-up apartments.
"We're nestled amidst age-restricted apartments, and those folks may have parents who are in our age group," Schonbrun said. "And maybe some residents moved in after 55 years old and could be future residents at our community."
The $21 million project will be the second Balfour Senior Living location in Denver, after a 200-unit center opened downtown near Union Station last year. Stapleton's Balfour will have 58 assisted-living apartments and an additional 16 memory care units to reach the total of 74 total rooms.
It's the first project Denver-based Northstar Commercial Partners has taken on with Balfour and the company's first senior-living project in the Denver area.
Don Marcotte, Northstar director of development, said his firm has been working on the Stapleton deal for at least 1 1/2 years. Northstar found and secured the land for the project, after Marcotte said the company looked at another site in Castle Rock but did not close the deal. Northstar and Balfour purchased the Stapleton site's 1.5 acres in November 2015 for $1.565 million.
Balfour will include an in-house salon, dining service, fitness center and common area. Residents also will have chauffeured transportation when they decide to venture out.
Memory-care units will rent for between $6,200 and $6,400 a month. The assisted-living apartments will range from studios at about $4,600 per month to two-bedroom units at about $6,500 a month.
Monthly rents include three meals per day and around-the-clock nursing services.
Tom Davis at Davis Wince, Ltd. is the architect on the Stapleton Balfour. Brinkmann Constructors will be the general contractor. Community and Southern Bank is financing the project.
Site work started about a month ago, Schonbrun said. Balfour hopes to open the complex in the first half of 2017.
Balfour opened its first retirement home, in Louisville, more than 15 years ago. The company built its first Denver location around the now-renovated Moffat Station near 15th Street and Little Raven Street.