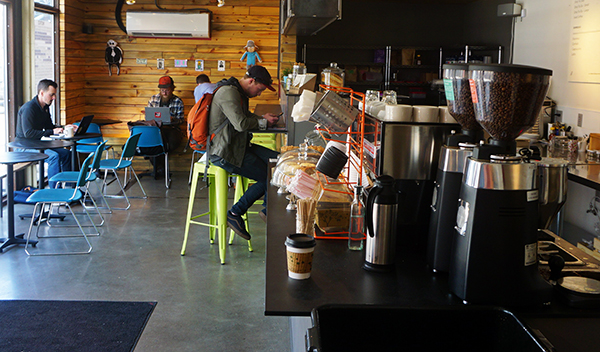 A local coffee roaster is jumping into the restaurant business.
Huckleberry Roasters and Chris Bell, former Potager chef, are launching restaurant Port Side this spring at Huckleberry's current coffee house near Larimer and 25th streets. The company will add breakfast, lunch and dinner menus to a café it opened almost two years ago.
"RiNo was always a neighborhood we loved being involved with; it's where we started roasting," co-owner Mark Mann said. "We could see what was coming for the neighborhood, and signed the lease on the Larimer Street place in anticipation of some of the growth and continued vibrancy of the neighborhood."
Huckleberry Roasters launched in 2011 in a warehouse at 2830 Larimer St. The company now keeps its headquarters, roasting house and a small coffee shop at 4301 Pecos St. in Sunnyside. Its only other location is the 2500 Larimer St. spot, a retail storefront Huckleberry leased in 2013.
As far back as 2013, Mann said Huckleberry wanted to open up a full restaurant in RiNo. But they were also busy starting up the roasting house on Pecos Street. The Larimer Street and Pecos Street retail coffeehouses opened within three months of each other in late 2013 and early 2014.
"We kind of put (the restaurant) on hold and just focused on serving great coffee and some food. But it was never enough food to qualify us to get any sort of liquor license," Mann said. "Now we have a little money in the bank, a little cache in the neighborhood and the time was right to bring on another partner in Chris."
Bell will run the kitchen full time when Port Side opens this spring. He left a job as chef at Potager restaurant last year, Mann said.
Restaurant plans call for full breakfast and lunch menus, with light dinner fare. Port Side will have six taps for beer, kegged wine and mixed drinks. The space will seat about 26 people inside the Larimer Street storefront and another 15 on the patio.
Mann hopes to start floating the Port Side concept with a few pop-up menu items each weekend until its opening. He'll start on April 2 by selling a pair of egg sandwiches – a veggie option topped with an Asian slaw and a meaty sandwich with pork shoulder.
"I think everything will be reasonably priced. I don't think the menu is going to be cheap, but for the neighborhood, everyone will be used to the pricing," he said. "We want people to be able to afford eating good food, but we also want to buy great ingredients."
Huckleberry Roasters, co-founded by Mann and fellow owner Koan Goedman, roasts between 1,200 and 1,500 pounds of coffee beans each week. Mann said they sell about half of that coffee at Huckleberry's two retail locations.
Huckleberry wholesales the rest to shops in Denver and outside of Colorado.
Mann said he and Goedman plan to push the wholesale side.
"In the next year and a half or two years, we will continue to just focus on wholesale," Mann said. "After wholesale has grown quite a bit, we will probably switch our focus back to retail and look to open another café concept."
In the next couple of months, Huckleberry will have to put a "couple tens of thousands of dollars" into outfitting Port Side, Mann said. Most of that investment will go towards buying new kitchen and restaurant equipment. Port Side will need to hire extra employees to staff the kitchen, Mann said.
Port Side will open at 8 a.m. and stay open until about 8 or 9 p.m., Mann said. It's a little later than the current coffee shop usually operates, but Mann said he plans on getting out of the way before peak bar time.
"We never really intended to have this be a late-night spot, but maybe the concept for before you go out at night and get crazy," he said. "It'll be a place to fill up on food and have one or two drinks. Then ideally we can all go home and not be out at one in the morning."