Building a still sure does slow down time.
But that hasn't stopped Paul Page, whose Mad Rabbit Distillery opens this spring, from spending two years learning the distillery trade, and outfitting his new still and tasting room in Westminster.
Starting up has proven "a huge, long, drawn-out process," Page said. And it's not cheap: Page reckons he's invested $1.5 million to buy equipment and purchase his 6,000-square-foot tasting room, office and production space.
"It's very expensive to do this type of a business," he said. "The federal government makes you have the facility and equipment in place before they issue you the license, so it's a real leap of faith."
Page, 50, took the leap after selling his telecommunications company.
He and his wife became intoxicated with the idea of starting their own distillery after visiting a friend's tasting room at Wonderland Brewing in Broomfield. The atmosphere was warm and family-friendly, Page recalled, and he dreamed of using Wonderland beer to make whiskey.
So Page went back to school, enrolling in distiller courses in Kentucky.
With an SBA loan, Page purchased a building and started what would become a nine-month process of buying equipment.
He bought a grain silo from a Texas ranch owned by football-player-turned-analyst Terry Bradshaw, a grain mill, a mash tun and several fermentation tanks.
Page said he wants to distill everything but tequila. Page has a taste for bourbon, which he attributes to his family's Missouri roots, and while at distilling school, he even picked up a liking for gin. He's betting that variety will draw customers, too.
"I don't want there to be one thing that's our claim to fame," Page said. "I want people to wonder what's next."
The five-person company already has bottled vodka, rum and even bourbon, thanks to a friend who let Page use his distillery while Mad Rabbit finishes construction. Gin and scotch could be next.
Page also thinks a variety of spirits will make Mad Rabbit a must-stop destination for customers that already frequent nearby breweries Wonderland, Westminster Brewing Co. and 4 Noses.
But before he can greet brewery-hoppers, Page needs to clear one more regulation: a certificate of occupancy from Westminster. If inspections wrap on schedule, the tasting room will be able to host more than 100 people as early as mid-April.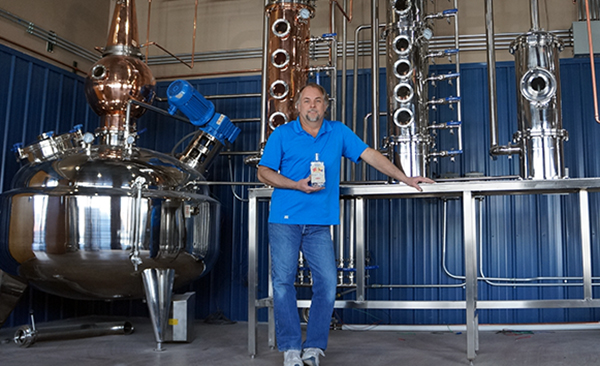 8174