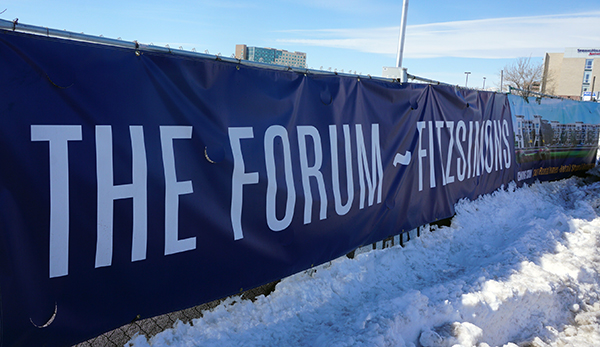 Medical and nursing students at the Fitzsimons campus are about to get 400 new places to live.
Catalina Development Co. is digging up an eight-acre stretch of land at Colfax Avenue and Potomac Street in Aurora to make way for 397 new apartments. It's a $104 million project that company President Randy Bryant hopes will draw from the many nearby medical facilities.
"Just look across the street and you see the VA hospital, the children's hospital, the university hospital, the medical school and the dental school," he said. "The amount of jobs and growth over there over the next generation is going to be amazing."
The project site is bounded by Colfax Avenue, Xanadu Street, Potomac Street and 14th Avenue. Catalina Development bought the real estate in October 2015 for $8 million, Arapahoe County property records show.
A single four-story building will house all of the units plus about 28,000 square feet of Colfax-fronting retail space.
About 60 percent of the units will be one-bedroom apartments. The rest are studios and two-bed apartments. Bryant estimated rental rates will hover around $2.20 per square foot for the apartments.
He's hoping to find tenants from job centers all around the eastern Denver metro area, and said the forthcoming light-rail station at Colfax near Fitzsimons will connect employees to their places of work.
"I'm sure we'll get a lot of the nurses and technicians at the medical campus, and there's 400 students at the medical school," Bryant said. "But we'll probably also get the husband and wife where one works at the hospital and the other works at the airport."
The complex also will have two pools, two spas, outdoor kitchens and fireplaces, a fitness center and clubhouses, Bryant said.
Forum Fitzsimons, as the project is called, broke ground in October and is scheduled for completion in spring 2017. Site work is well underway, and Bryant said a parking garage should start going up soon.
Houston-based Wallace Garcia Wilson designed the building, and Denver's Weitz Construction is the general contractor. Bank of the Ozarks is financing the project.
Forum Fitzsimons will be similar to another Colorado apartment project that Catalina Development completed, Bryant said. Catalina built 376 apartments at Terracina Villas in Broomfield. That project wrapped up about six years ago. Catalina sold Terracina to Griffis Residential as the complex was being completed.