The downhill skier that spun Spyder ski apparel is selling his five-acre Boulder estate for $7.1 million.
These days, David Jacobs, founder of Spyder Active Sports, fills his need for speed on four wheels instead of two skis. The ski-racer-turned-entrepreneur now spends much of his time racing 1960s icons around the world.
Last week, Jacobs and wife Jean Conway Jacobs listed the four-bedroom, six-bathroom home they built in 2007 in the foothills north of Boulder. The 8,000-square-foot home was Jacobs' first major project after selling Spyder to Apax Partners, a New York-based private equity firm, for $100 million in 2004.
"That's the first time I had money, like real money," Jacobs said. "And I was always a sports car aficionado."
After selling Spyder, Jacobs took a race car driving course and bought more vintage cars for his collection. Those collectible cars, the latest made in 1971, needed a home.
He gave Denver-based architect John Mink only two criteria for the house: that the dining room fit his six children and 10 grandchildren, and that it overlook his five vintage race cars.
But now the grandkids are grown up. And Jacobs keeps the cars in a warmer climate.
"The race cars are in southern California, which is better suited to racing the cars and storing them," he said. (He and his wife are seeking a smaller property in Boulder.)
Husband-and-wife realtors Carliss and Jeff Erickson of LIV Sotheby's International Realty listed the property for $900 per square foot, Carliss Erickson said.
The house is steps from hiking trails and a 10-minute drive to the Pearl Street Mall.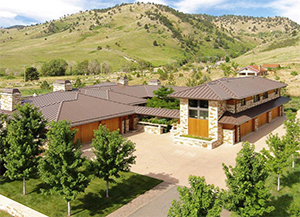 Only the roof is visible from the road, Erickson said. Niwot-based builder Tim Harrington nestled it a few feet into the ground so as not to compete with the foothills or the views of the neighbors.
And within its gates (emblazoned with the Spyder logo), the property has a 75-foot lap pool, a 12-person hot tub and an outdoor kitchen.
Just like he wanted, Jacobs can admire his race cars – displayed in a 1,600-square-foot, glass-paneled garage – from the dining room across a courtyard.
After designing ski boots earlier in his career, Jacobs founded Spyder in 1978 because he was frustrated with the racing gear his sons wore to ski races. He named the company after a pair of pants with yellow stripes resembling spider legs. By the early 1980s, Spyder pants outfitted several national ski teams.
Jacobs remained Spyder CEO until 2008 and left his role as chairman in 2010. Authentic Brands Group, a New York-based brand licensing and development company, acquired Spyder in 2013.
But then Jacobs started feeling the itch to design sportswear again. This time, he sketched out a fireproof car-racing suit and found a Japanese manufacturer to make it.
"I still wear it," he said, although the line is no longer in production. "It is the best suit in the market."
Jacobs said he races cars eight to 10 times a year across the United States and Europe. This is the first year that he's skipped ski season, he said, to make sure he's fit for the car-racing circuit.
"Having raced downhill, I'm completely at ease in high speeds," he said. "I'm racing against 30-, 40-, 50-year-olds and I win my share of races."