Co-working is moving into the suburbs.
Danny Needham, a developer who owns two co-working concepts, is planning to add co-working as part of a development replacing the old Westminster Mall.
Needham said he wants to bring his Grid Collaborative Workspace and Solera Salon to Westminster.
Solera Salon rents private office space to hair, nail, massage and other beauty professionals. Grid Collaborative Workspace will be a co-working space for people seeking an open desk, private office or business event space.
Needham is betting both ventures can take co-working out of cities and drop it in the suburbs. He said smaller entrepreneurs want to save money by working outside of Denver and Boulder.
"What they're doing up there with the Westminster Mall is really unique. And it's going to have high density," he said, noting that his development will be near a 1,000-car parking garage and residential developments in addition to more retail and office space.
Needham's development is part of a six-year push by the City of Westminster to develop 105 acres, once home to the Westminster Mall, into a mixed-use development called Downtown Westminster. The mall was demolished in 2011.
Needham and the Westminster Economic Development Authority (WEDA) signed a purchase-and-sale agreement for a 25,000-square-foot parcel near the center of the development this month, he said.
The Downtown Westminster project spans from U.S. 36 west to Harlan Street and from 88th Avenue north to 92nd Avenue. WEDA has spent $22 million on the land acquisition, according to its website.
Besides startups and entrepreneurs, Needham thinks Grid will fill a demand from bigger corporations that need places for traveling employees to work for a couple of days every month.
"The studies all say individuals and entrepreneurs are starting to work like this, but corporations are grabbing onto this, too," he said. "What makes us a little bit different is that we concentrate on conference room rentals and event space."
He added that Grid, which is simultaneously building its first locations in Overland Park, Kansas, and Dallas, will be a good fit for businesses that like Regus' executive suites, but are looking for a more modern aesthetic and the opportunity to network with fellow co-workers.
Grid will sell daily and monthly passes for sit-where-you-like desks, reserve desks with a desktop and lockable storage included, and private offices for individuals or groups. Prices for each service have not been set.
Solera has locations in Centennial and Lone Tree as well as Alpharetta, Georgia, and Overland Park.
For the Westminster project, Needham has hired Beck Group as architects and Adolfson & Peterson for preconstruction planning, he said. Needham does not have an estimate for construction costs.
Needham is working with real estate agents Liz Morgan and Mark Williford of SullivanHayes to find retail tenants for his first and potentially second floor, he said. Solera and Grid would have the upper floors, for a total of five to six floors and a rooftop patio.
Meanwhile, Needham is looking for a new corporate office for Grid and Solera, whose headquarters are in the Denver Tech Center. Rather than staying in the suburbs, Needham said, he's considering a move to downtown Denver.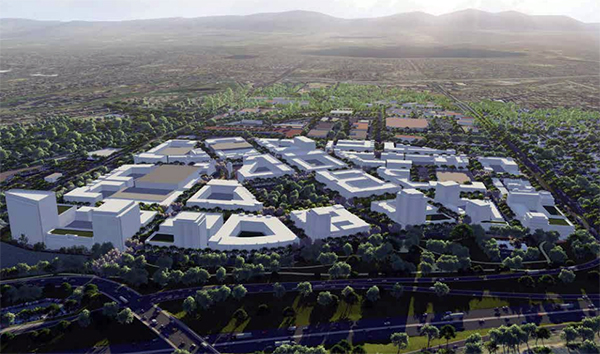 8123