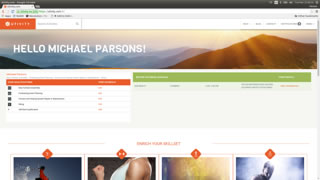 A website you can use to find a yoga instructor is raising money to stay flexible.
Denver-based Utivity – whose primary purpose is to connect pupils and instructors, but which also helps people find service businesses – has raised about half of a $2.4 million funding target, according to SEC filings from last month.
Co-founder Matt Shifrin said Utivity, which has instructors in nine states, will use the money to stretch into Texas, California and the Pacific Northwest.
"Our product is technology and therefore, our technology needs to support the business. But then the secondary area is our client-services team," he said, referring to employees that help new instructors join Utivity.
About 90 percent of Utivity's instructors are based in Colorado, he added, and while the company has room to grow locally, it wants to add more out-of-state instructors to the site.
Started in 2014, the 11-person company isn't profitable, Shifrin said. It reported less than $1 million in annual revenue, according to its recent SEC filing.
Utivity, which has an office in RiNo's Green Spaces, takes a variable commission from instructors for each session booked using the site: 5 percent for the first nine months after a free trial, and up to 20 percent for instructors that book fewer than 10 sessions a month.
Instructors can compare their bookings to competitors and see other data for an extra $5 per month. They also can buy a featured spot at the top of search listings for $1 a click.
But Shifrin is less interested in reaching into certain service categories. While a housekeeper or dog-walker can book customers on Utivity, Shifrin wants the website to be the place people think of first when they want to get in shape, to lower stress or learn a skill.
"It gives us a brand identity," he said. "When you come to Utivity, it gives you that 'do more' mentality."
Besides offering fitness and outdoors industry courses, instructors use Utivity to advertise activities as disparate as beer brewing lessons, event DJ services, and science or language tutoring.
In 2014, Utivity collected a $1 million seed round, SEC filings show. Shifrin said the company initially planned to delay a Series A, but got commitments from two venture capital firms sooner than expected and decided to launch a Series A this winter instead.