It may not boast Rocky Mountain views, but a Denver-based burger chain thinks Kansas has the right combination of Colorado-like qualities to host its first out-of-state location.
Larkburger, which opened its first restaurant in Edwards in 2006, plans to open a new spot in Overland Park, Kansas, as early as the end of 2016.
CEO and co-founder Adam Baker said it's an ideal location because it's relatively close to metro Denver, which makes it easier to start up the new restaurant, and it's demographically similar to other spots with thriving Larkburgers.
"It's pretty highly educated, which is important for us," he said. "They appreciate good food and are paying attention to what they're eating."
Baker said the chain's marketing pitch – which touts its use of fresh ingredients and efforts to reduce waste – is more likely to resonate with an educated crowd. The Larkburger costs about $7.
Baker certainly appreciates the product: He eats at Larkburger multiple times a week, favoring the chain's tuna burger with wasabi-ginger dressing among a few other menu items.
Chef Thomas Salamunovich served the first Larkburger, now the chain's signature menu item, at his Larkspur Restaurant in Vail in 1999. The burger features a Black Angus patty topped with lettuce, tomato, onions, pickles and a house-made Dijon mustard with lemon and eggs.
The burger's popularity spurred Salamunovich and Baker to start the Larkburger restaurant chain, filling out its menu with salads, milkshakes and vegetarian fare.
Larkburger now has 12 locations along Colorado's Front Range, including three in Denver. As it expands out of state, Baker said his goal will be to retain the same standards of freshness, speed, cleanliness and hospitality. To do so, the chain will keep corporate ownership of each new location rather than franchise the concept.
"Each component of that takes execution and attention," he said. "We want to make sure that we're not so busy opening new restaurants that we lose the fundamentals of what has made Larkburger so great so far."
The Kansas location will seat 75 people. It's in a suburban retail development called Corbin Park that is currently adding new construction. The restaurant has about 2,400 square feet of indoor space and an outdoor patio. Larkburger plans to hire 30 workers for the restaurant.
Baker said the company is looking for other locations in Kansas and along the Front Range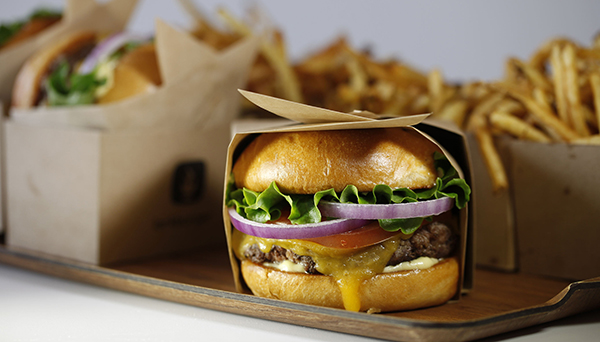 8079