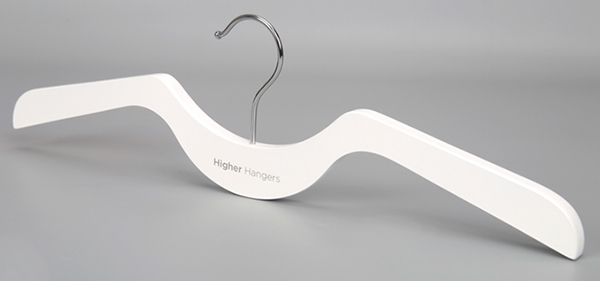 A local inventor finally is bringing to market the redesigned clothing hanger he altered to save space in his dorm room 10 years ago.
Drew Cleaver, 28, came up with the Higher Hangers design as a college freshman, patented it, licensed it to a retailer and waited to collect his royalties for four years. But with no checks coming in, Cleaver dusted off his business plan last fall, convinced he could hook customers on his own.
Now he's raised $65,000 on Kickstarter to produce his first batch of hangers to sell.
"I was confident before, and now I'm very confident about things," he said. "Why hasn't this been made yet? That's the reaction I get."
Cleaver's hanger tweaks the standard design. Rather than attaching the hook to the tip of a triangle, his hook attaches to the bottom of a crescent-shaped groove that bends back towards the middle of the hanger.
That makes the shirt's shoulders hang closer to the closet's bar, freeing up more space beneath each shirt.
Because making a new plastic mold and shipping a small batch of hangers have high startup costs, Cleaver's first business plan called for making wood composite hangers. Those would cost less to build and could build demand for a plastic version, he thought.
But Cleaver didn't want to manage production personally, so in 2010 he entered and won a contest to license the patent to a home goods retailer. But the retailer shelved the product after trying to mass produce a plastic Higher Hanger, only to encounter the high startup costs Cleaver anticipated.
In 2014, he convinced the license owner to tear up his agreement and release the patent back to him.
When Cleaver lost this job in the oil and gas industry a year ago, he saw an opportunity. So he made fresh marketing materials, found manufacturers in China to make wood composite and polyester-coated plastic hangers, and launched a crowdfunding campaign.
Cleaver said Kickstarter is a great opportunity that also poses new challenges. Young people living in tight urban quarters might understand the concept of crowdfunding, but many consumers don't get why they can't go out and buy the hangers at Target immediately. And Kickstarter backers skew 70-30 male, Cleaver pointed out, while Higher Hangers' early supporters are split 50-50 male and female.
"The majority of people on Kickstarter don't get our product," he said. "And my advertising cost has been more expensive because I'm reaching out to people that don't know how to use Kickstarter."
But he's optimistic. Cleaver said he's presold more than 30,000 hangers through Kickstarter. He hopes there's a chance that he'll attract attention from a retailer or a manufacturer: Cleaver said he's still holding out for someone to see the design is selling, license it — and this time, actually put it on store shelves.