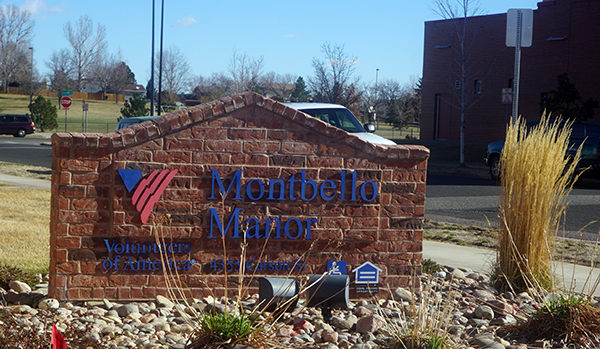 A nonprofit is trying to keep up with an aging population by more than doubling the size of a Montbello assisted living complex.
Volunteers of America will break ground on a new 86-unit senior's apartment building at 4305 Carson St. in May. The project is about three years in the works, said Jordan Kellerman, Colorado VOA spokeswoman, and will expand on the nonprofit's 79-unit Montbello Manor facility.
"With the baby boom, we're seeing a lot of seniors who can't afford rent right now," Kellerman said. "This was something we anticipated, so we wanted to get started on this project, but sometimes these things take three years to put together."
Montbello II, as the project is called, will have 70 one-bedroom apartments and 16 two-bedroom units. It will be set aside for those age 62 and older that make less than $33,600 per year. Each resident will pay 30 percent of their income in rent, Kellerman said.
Volunteers of America will build on a 3.3-acre parcel immediately south of Montbello Manor, which is at the corner of Carson Street and Albrook Drive. Montbello II will take up most of that plot, though Kellerman said there may be room for more small-scale development later.
Montbello II will go up about 12 years after Montbello Manor was built, according to city records. Montbello Manor has been a very popular facility, Kellerman said, and Montbello II will be essentially the same kind of senior living apartment building.
"We had so much success with that original property, because it's easily accessible and there's a park nearby," Kellerman said. "Building another next to it made a lot of sense."
RiNo-based Parikh Stephens Architects is designing Montbello II and Centennial's BC Builders will be the general contractor.
The Colorado Housing and Finance Authority will provide the construction loan. Volunteers of America also will fund the project with state and federal low-income housing tax credits. The City of Denver, State of Colorado, First Bank and the Federal Home Loan Bank of Topeka also are pitching in.
As Montbello II starts taking shape, Volunteers of America will be working on another 72-unit project at Lowry. Kellerman said the nonprofit is teaming up with the Denver Housing Authority to build that complex at a site just south of First Avenue between Quebec Street and Monaco Parkway. That development should break ground in 2017.
"With Denver growing this fast, we're trying to get housing out as quickly as possible," Kellerman said.