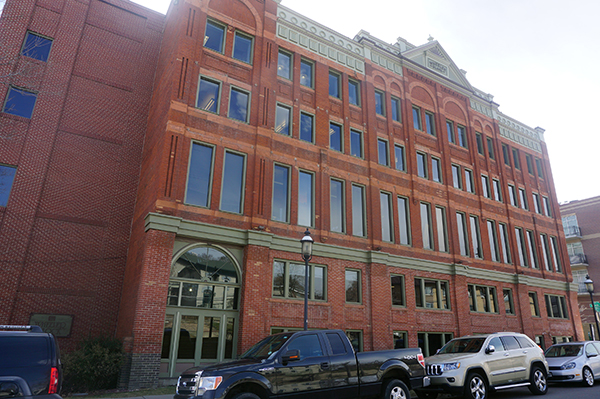 A new owner is moving in on a LoHi office building after a major tenant moved out.
Centrepoint Properties bought the Wheeler Block office building at 2150 29th Ave. for $7.765 million last week, city records show. The building was an off market acquisition for Centrepoint, which swooped in on the building around the time it lost full-floor tenant Mobile Accord.
"The worked out in our favor because it fell right into what we look for," said Tucker Manion, Centrepoint president. "Our first parameter is location and then we look at what sort of value we can add to the building. In this case, it's obviously a lease-up project."
The Wheeler Block is a 36,000-square-foot building at the corner of 29th Avenue and Vallejo Street. It is six stories tall and about 77 percent leased, Manion said, adding he'd like to raise that to about 95 percent in one year.
Cushman & Wakefield brokers Jon Hendrickson and Aaron Johnson represented the seller in the Wheeler Block deal. The building was originally built in 1892 and was renovated about eight years ago.
Tenants include Prima Healthcare and Family Tree Oil and Gas, which both have a full floor. Real estate developers Littleton Capital Partners also recently moved to the Wheeler Block building from downtown Littleton.
Office space on the first floor is leasing at $29 per square foot, Manion said. Floors two through six will range between $30 and $35 a square foot, and Centrepoint plans to handle leasing duties in-house.
Wheeler Block is the second building Centrepoint has picked up in hopes of boosting occupancy rates. The Denver-based firm bought another building at 789 Sherman St. last year for $9.95 million. Manion said that property was about 60 percent leased when Centrepoint bought it.
Centrepoint has renovated that building and now it's leased out to about 92 percent. Manion is hoping for similar success at the Wheeler Block, but said it shouldn't require the additional investment in building improvements.
"It's really all ready to go. We're holding back money for tenant improvement and leasing commissions, but that's standard practice," he said. "It's set up right now as a Class A building, so not a lot has to be done."