To the funder go the funds: A Denver-based lending startup is poised to deepen its pockets by $50 million.
P2Binvestor (P2Bi), a financial technology company, pools money from institutional and accredited investors, then loans it to startups that have established revenue sources but need credit to finance short-term cash flow.
CEO Krista Morgan said the company scored a $50 million loan of its own from a fourth institutional investor last month. On Tuesday, the company disclosed in a SEC filing that it had received the first $5 million from that $50 million commitment.
"We are a double-sided marketplace. We want to make loans, but you can't make the loan if you don't have the money," she said. "So now we can focus on one side of the marketplace for a little while."
Morgan said this installment of debt financing means P2Bi, which got started in 2012 and lent to its first borrower in 2014, now has the ability to lend up to $100 million.
Kickstarter it is not. Morgan said an average loan is about $1 million, and only accredited and institutional investors can buy into P2Bi, in order to comply with securities law.
To use P2Bi, companies must prove they meet certain financial criteria. Borrowers need to have $500,000 in annual revenue to get started and been in operation for a year or more. Morgan said most borrowers are consumer goods, professional services and tech companies
Borrowers use some indication of future cash flow – recurring revenue, inventory or invoices – as collateral against loans.
P2Bi's loan interest rates averages between 15 percent and 18 percent, Morgan said, depending on the size, stage and profitability of the borrower. P2Bi pays its own lenders between 8 percent and 14 percent interest, then pockets the difference, she explained.
Morgan said the Cap Hill-based company is able to charge lower interest rates than other nontraditional lenders, largely because crowdfunding disperses risk for each investor.
"One person writing a $100,000 loan is saying, 'If this loan goes wrong, I'm going to lose $100,000,'" she said. "In our model, everyone's buying a little piece of the loan."
Besides institutional investors, Morgan said P2Bi has 100 accredited investors and 50 active borrowers.
Morgan thinks her 24-person startup also has a technological edge. For example, it doesn't manually process invoices. Instead, it crunches data pulled from borrowers' financial accounts to calculate the borrower's maximum available funds every day. Therefore, the company's line of credit can grow or shrink each day as its assets fluctuate.
And, Morgan added, the software helps P2Bi loan out the money its investors loan to P2Bi. That helps keep the money moving so P2Bi isn't paying its investors interest on cash that isn't being used by another borrower.
She said the technology also is easier for borrowers, which can access P2Bi from their smartphones. They pay noncompounding interest on the portion of credit they use, can change loan amount at will and can leave P2Bi without penalties.
"It's like a really great credit card," she said.
Except, she added, P2Bi can lend up to $5 million in each credit line, far more than your everyday AmEx. Because other business-to-business crowdfunders have a lower ceiling, Morgan hopes P2Bi attracts faster-growing companies that more investors are interested in funding.
Until then, Morgan said P2Bi is in the same position as many of the borrowers using P2Bi: Adding more customers, growing quickly but not yet cash flow positive.
But unlike P2Bi borrowers, P2Bi sells equity to finance its own growth in addition to the money it borrows to make loans.
"It's ironic that (P2Bi raises) equity to solve our problems, but we're trying to give other companies an alternative to equity," she said.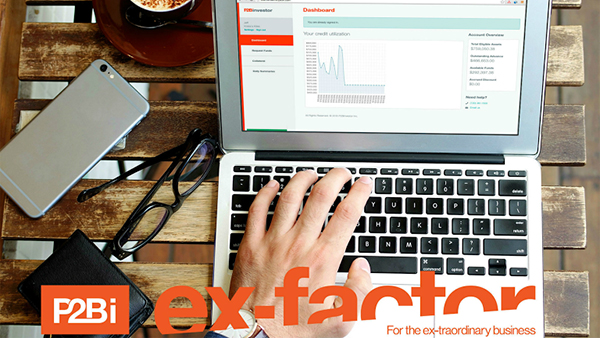 8051